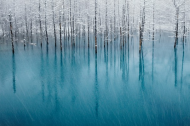 Photo by Kent Shiraishi taken at Biei, Hokkaido, Japan.
Can you freaking believe 2011 is, for all intents and purposes, over? That means it is time for all of those end-of-year lists. So many lists, so little time left to read them; so I've compiled my own list of lists that will hopefully amuse, and at the very least distract, you.
For fans of MAKE and DIY culture, here are the top 10 "most important" people on Etsy, the popular online shop and community for independent handmade crafters.
For an exercise in guilty schadenfreude in 2011 here is a supercut of the best fails this year on YouTube. If you laugh at any of them you are a horrible, horrible person. I am a horrible, horrible person.