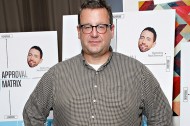 Executive producer of THE APPROVAL MATRIX, Michael Hirschorn, reveals the key ingredient to making a TV show, what it's like to accept an award while wearing shorts, and who he thinks will surprise viewers the most on the show.
Q: How does The Approval Matrix TV show expand on the original New York magazine back-page grid? Any drastic changes to format?
A: I would say it's quite different. The magazine's back page is a quick, witty insider take on the week just past. The TV show uses the act of choosing where a pop culture person, place, or thing goes on the matrix to spark a smart and funny conversation about culture.
Q: What was the key to bringing the grid to life?
A: The key was giving everyone on the show the chance to say exactly where each item would go. We decided to turn each item into kind of a play block, like kids play with in kindergarten, so people could put them in nice stacks, place them where they wanted, or even have hissy fits and throw the blocks like 5 year-olds.
Q: What are you most excited about on the show?