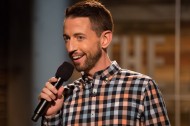 The host of SundanceTV's new series — inspired by New York magazine's back page pop culture roundup — talks about some of the most surprising moments that happened during the shoot and his predilection for lowbrow brilliant news.
Q: What are you most excited about on the show?
A: I like all six episodes, but I'd say my little disagreement with Jon Stewart is interesting. Also, I told Willie Geist that he looks like a stock photo of a white person. So that was nice.
Q: How did you choose the topics that are featured on the episodes? Do you have a favorite?
A: Rory Albanese, Michael Hirschorn and I batted around a bunch. Ultimately, it's what subjects could sustain a 45 minute discussion. My favorite [episode] is probably "America's Hall Monitors" about the snitch culture pervading our glorious nation.
Q: How did you meet showrunner Rory Albanese? What makes you a good team?