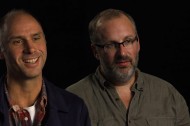 Writing duo Sam Bain and Jesse Armstrong, two of TV's most original voices, discuss developing their unique approach to a police comedy-drama, working with series producer Danny Boyle and Jesse's involvement with the writing of Veep.
Q: What originally inspired the show's focus on the police force's PR department?
Sam Bain: We wanted to take a fresh angle on UK police that hadn't been seen before and we felt that PR and media relations were an aspect of police work that's hugely significant and ripe for drama and comedy but relatively unexplored. The challenges facing a huge, established organization in the modern media age felt like an exciting theme for us.
Q: What's Danny Boyle like as a producer?
Sam Bain: He's great, he was involved a lot more than we dared hope…