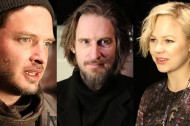 After almost 20 years on Death Row for the rape and murder of his teenage girlfriend, Daniel Holden is going home. His conviction has been vacated due to new DNA evidence, thrusting him back into a world he no longer knows. Sundance Channel's new, original series RECTIFY follows Daniel during his first week back in the small, Georgia town he used to know. What will Daniel do with his first few days of freedom? You'll have to tune into the premiere on Monday, April 22nd at 9PM to find out, but considering the project comes from the same masterminds you brought us BREAKING BAD, we should probably expect a few surprises. We asked the cast, along with some other celebs, what they would do after 20 years in prison. Their answers may surprise you.
1. What will Daniel do?
Daniel Holden taught himself how to survive the physical and emotional torment of Death Row. Once he is free he'll need to learn how to live in a world he doesn't understand. Everything he encounters will be a puzzle, from his relationship with his family to the technological and social changes of the last two decades.
So, what will Daniel Holden do? Whatever it is, it's going to shake an entire town. And it might even shock you.