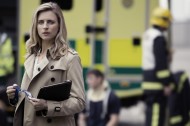 Sundance darling and BABYLON star Brit Marling (The East, Another Earth) talks about technology and the public's involvement in law enforcement, working with the series' acclaimed executive producer Danny Boyle, and her passion for London's pub culture.
Q: How did you become involved in Babylon?
A: I read the script and was really moved by the character of Liz – she's tough but not without vulnerability. Danny and I spoke on the phone and I loved how he saw the story developing, and the questions he wanted to ask about how technology and the transparency it creates is changing all of our lives. How does law enforcement change when a criminal is using Twitter or Instagram? What's the future of the public's involvement in law enforcement as a result? And how do you create a career girl that isn't a typical ball-buster but is multi-faceted? All awesome things to explore. So I got on a plane and 24 hours later we were doing a table reading that was so funny people were choking on their beverages with laughter. Sam and Jesse are such great writers it's borderline dangerous.
Q: You mention liking the way she's a nuanced and layered character – was it a surprise to you that two forty-something British male comedy writers were able to create a female character like that?
A: The truth is, I find it surprising when either of the genders…