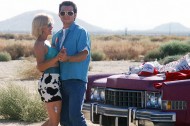 There's something about summer that makes road trips a must: 'Tis the season to ditch the office and head to the highway with your best friend. If that's not an option, make a date with that special someone to enjoy the open road from the comfort of your couch. Here are just a few of moviedom's most memorable journeys–including a few you can catch on SundanceTV this month.
Blues Brothers
The Duo: 'Joliet' Jake Blues (John Belushi) and Elwood Blues (Dan Aykroyd)
The Travel Route: Calumet City, Illinois to Chicago
The famed SNL pair's approach to the wide, open road can best be summed up by their famous exchange in the Bluesmobile. (Elwood: "It's 106 miles to Chicago, we got a full tank of gas, half a pack of cigarettes. It's dark, and we're wearing sunglasses." Jake: "Hit it.") The brothers stick by each other as their "mission from God" to save their childhood orphanage leads them to spirited musical performances, neo-Nazis, a homicidal woman played by Carrie Fisher—and, ultimately, back to jail. Although this time around, they're together.