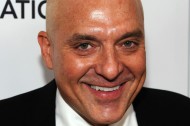 Sundance Channel announced today that Golden Globe® nominee and critically acclaimed actor TOM SIZEMORE (Saving Private Ryan, Black Hawk Down, Pearl Harbor, Heat) has been cast in the network's next original scripted series, THE RED ROAD.
Tom Sizemore plays JACK KOPUS, a terrifying and unpredictable drug dealer and the father of Native American ex-con Phillip Kopus (Jason Momoa). Phillip (Momoa) returns home to run Jack's (Sizemore) small-town drug ring in the mountains of northern New Jersey.
THE RED ROAD is a hard-hitting drama that revolves around a local cop struggling to keep his family together while simultaneously policing two clashing communities: the small town where he grew up and the neighboring mountains, home of a Native American tribe. After a terrible tragedy and coverup occurs involving the cop's wife, an unholy alliance is forged between the cop and Phillip Kopus (Momoa), a dangerous member of the tribe that will come back to haunt all involved.