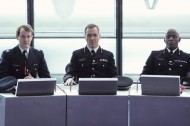 Liz and her team prepare Commissioner Miller for an upcoming hearing with the deputy mayor, barraging him with tough questions and insults. Miller grows annoyed and storms out.
Liz surprises Mia by accepting her invitation to get drinks after work and complains about Miller's intractability.
A representative from private penal contractor Securamax reviews time-lapsed footage of an ongoing violent uprising at a nearby youth prison with Met top brass. Assistant Commissioner Inglis agrees to classify the situation as a "disturbance" rather than a full-blown "riot" to avoid calling in police aid and triggering costly contractually-mandated penalties.