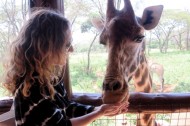 Hanging out with a giraffe in Nairobi — last year.
The question of this week, as I leave for Kenya on Thursday: What in the hell to pack?
Fun fact: The dreaded tsetse fly's favorite color (the color of luuuurve, apparently) is blue. So there go jeans. OR do I wear jeans and spray the hell out of them with Deet and risk having three-headed babies — even though I am not dating and nowhere near having a baby, much less a three-headed one… You see? The problems we unemployed have!
I also wonder: What to wear to a restaurant called Carnivore? It's like the TGI Fridays/Edible Epcot Center of Nairobi, but instead of serving cheese sticks and chicken wings, they serve shit like: Zebra, Gnu, Wildebeest, Wart hog and Hippo. Basically, if you want to see it, they will serve it to you so you can also eat it… the full African experience, if you will. No pun intended. Apparently, Wart hog, being of the pig family, is very good. Hippo is supposed to be insanely fatty and semi-disgusting. All I know is I'm going the second night I'm there so it better not make me sick for the rest of the trip. Speaking of which, I better go to Duane Reade and stock up on some Pepto Bismol. So, do I go safari chic and pretend I killed my meal myself? Do I slurp down ostrich soup under a pith helmet?