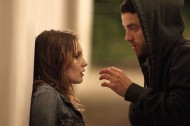 Here we are with the most "killer" shows ever: killer as defined by body-count, that is. Zombies, murderers, gangsters, vampires, cannibals, drug dealers — they're all in here. Vote for your top pick in the poll below.
1. The Sopranos
"Some will win, some will lose
Some were born to sing the blues
Oh, the movie never ends
It goes on and on and on and on…"
It's impossible not to put The Sopranos at the top of this list. The ultimate "killer" show followed the ups and downs of Tony Soprano for six amazing seasons. And even when the show ended… it never really ended. After all the hits and murders, we wound up with Tony and his family sitting in a quiet diner — and then… the screen went to black. Was Tony killed? What happened? Theories abound, but what creator David Chase did with the final episode was allow us to resolve the story in our minds — imagine our own ending for Tony, or our own continuance. The concept of The Sopranos changed TV forever, and the Journey song playing at the diner gives us all a clue: after all, the story never ends. It just goes on and on and on.
2. Six Feet Under
"You only get one life. …And once it's over, it's over. Dreamless sleep forever and ever. So why not be happy while you're here. Really. Why not?"
It's hard to get more "killer-ish" than Six Feet Under; the show that began every episode with a death, and a caption reminiscent of a tombstone's epitaph. Following the lives of the Fisher family as they attempted to manage a funeral home, each episode focused on the death of a stranger whose body came to the funeral home. The show's message: everything everywhere eventually ends. But this is not a reason for sadness, it's a reason to enjoy life while we have it.