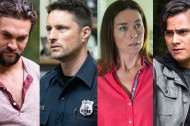 Can't wait for THE RED ROAD Season 2? Keep up with the stars through their upcoming big-screen projects in the meantime.
Jason Momoa (Phillip Kopus)
In addition to starring in and directing the recently released Road to Paloma (which also features wife Lisa Bonet), Momoa has two more movies slated for 2014: The action-horror coming-of-age movie Wolves (as in were-) helmed by screenwriter David Hayter (X-Men, X2 and Watchmen) for this summer; and Debug, a hackers-in-space thriller directed by Stargate: Atlantis costar David Hewlett.