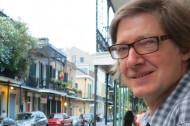 ONE CHILD writer Guy Hibbert discusses the the political and social issues that drive his work, the real life inspiration for his characters and the importance of having Katie Leung in the lead role.
Q: What inspired you to write ONE CHILD?
A: I have a contact, the writer Xue Xinran, and she was the inspiration for that part of the story which is the adopting of girls during the one child policy. These girls were abandoned in the tens of thousands in China as the preferred one child was a boy. The other part of the story is about the corruption of the legal system leading to a sentence of death. I wanted to explore capital punishment. For as long as State executions take place, we need dramas and documentaries to keep on tackling the issue.