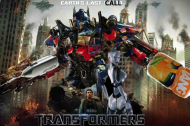 "I'm here to transform normal ingredients into an amazing drink!"
Introducing our new SUNfiltered blogger, Drank With That, to be enjoyed responsibly – or not.
Pop Quiz. If Michael Bay got in a bar fight with John Favreau, who would win? Obviously Michael Bay.
Ok, if Brett Favre showed up and he and his buddy John tried to tag team Michael Bay, who would win? Trick question, because the answer is still Michael Bay. Also, this would never happen because fighting Michael Bay is pretty much a suicide mission – in space. Why? Because of TRANSFORMERS 3! IN SPACE!
Movie franchises know that taking it to space is a surefire way to get a hit. THE MUPPETS took it to space, STAR WARS took it to space, AIRPLANE took it to space. Shoot, if the writers had figured out how to get Hightower into a space suit, we'd probably still be watching POLICE ACADEMY movies. For those of you snoozing out there: take it to space!
That's what TRANSFORMERS 3 did, and that's exactly what we did, too. What do you drank with that? Introducing the Obvious Prime: