Rosehaven Recap: Episode 106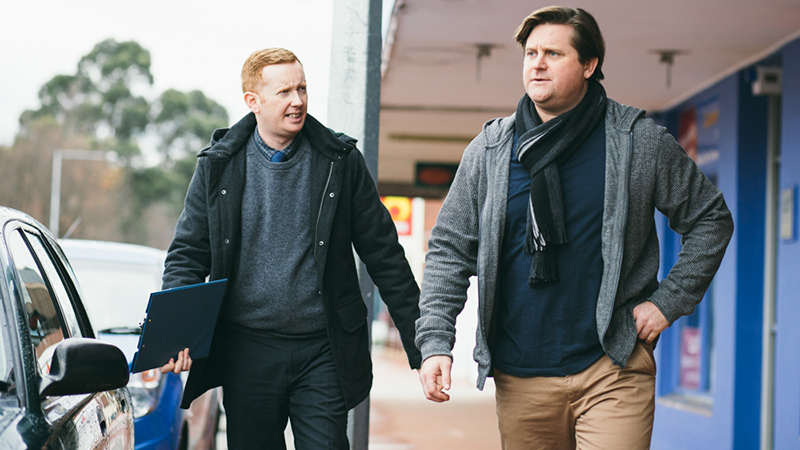 On the way to work, Emma (Celia Pacquola) laments to Daniel (Luke McGregor) that Barbara (Kris McQuade) doesn't like her. He suggests she act more professional at work.
In the office, Daniel worries about not being able to rent a property that is becoming available. He says the tenants have been good and wishes they wouldn't move. Mrs. Marsh (Noela Foxcroft) informs Emma that her husband Josh (Jacob Allan) has arrived and is looking for her.
U\nable to talk to Josh, Emma hides with Daniel in the back. He asks Emma why she hasn't returned Josh's calls.
Phil (Anthony Morgan) arrives and says he's interested in buying a house. Josh and Emma argue and Daniel asks them to take it outside.
Outside, Josh tells Emma he doesn't think they should get back together and asks her to forgive him for breaking up with her on their honeymoon. He reveals he went to couples therapy without her.
Daniel calls the homeowner and tells Phil the house he wants to buy isn't for sale. Phil says he just tried to buy it as a prank on the homeowner.
Emma yells at Josh and says she's going back to work. He tells her he isn't leaving until she forgives him.
Emma goes with Daniel to inspect the home of Jim (Andrew Casey) and Ryan (Patrick Williams), the tenants who are moving out. Emma tries to convince Jim and Ryan not to move into the city by mentioning werewolves and heroin.
Back at the office, Josh tells Emma he's not going to leave. Emma suggests to Daniel that they should remind the tenants how great life in Rosehaven is.
Josh follows Emma and Daniel to the Rosehaven tourist board. Stacey (Jennifer Rani) tells them about all the uninteresting places in Rosehaven. Emma takes some travel brochures.
At dinner, Emma tells Barbara that Josh came to see her. Barbara tells Emma she is responsible for her own happiness and to never fight in the office again.
At the pub, Emma and Daniel throw Jim and Ryan a going away party. 
Stacey arrives to share tips about Rosehaven in exchange for free beer.
Emma encourages the crowd to share memories of Jim and Ryan. Stacey and Daniel argue about the Rosehaven reef versus the Great Barrier Reef.
Daniel gives a speech about the history of Rosehaven. Emma sees Damien (David Quirk) talking to Josh.
Josh asks Emma if she's seeing Damien. He says he should be able to see other people if she is.
Emma introduces the crowd to Josh. He says he and Emma were never as close as Daniel and Emma are. Daniel says Emma will forgive Josh when she's ready. Jim and Ryan tell everyone they're leaving and will miss Rosehaven.
Emma tells Jim that she wants Josh to leave but is glad he's still there. Jim reveals he and Ryan broke up which is why they're moving. Emma tries to convince Jim that breaking up was a good idea, but he realizes he still wants to be with Ryan.
Josh tells Emma she looks happy being in Rosehaven with Daniel. He apologizes and says he thinks she was never really in love with him. Emma tells Josh she forgives him.
At McCallum Real Estate, Daniel tells Emma he's proud of her and gives her a watch. She says she doesn't want Josh to die but never wants to see or hear from him again.
Jim and Ryan arrive and say they've decided to renew their lease. Emma asks if Daniel wants to celebrate later. He says he's going to catch up with Grace. Emma tries to open a bottle of wine at her desk.
That night, Emma struggles to open a bottle of wine. Barbara commends her on ending things with Josh. She pours them each a glass of wine. Emma asks if she can have more wine in her glass.
Rosehaven airs Thursdays at 1 am/12c on SundanceTV.
Stream Rosehaven full episodes online now (Episode 101 and 201 No Login Required).