Rosehaven Recap: Episode 105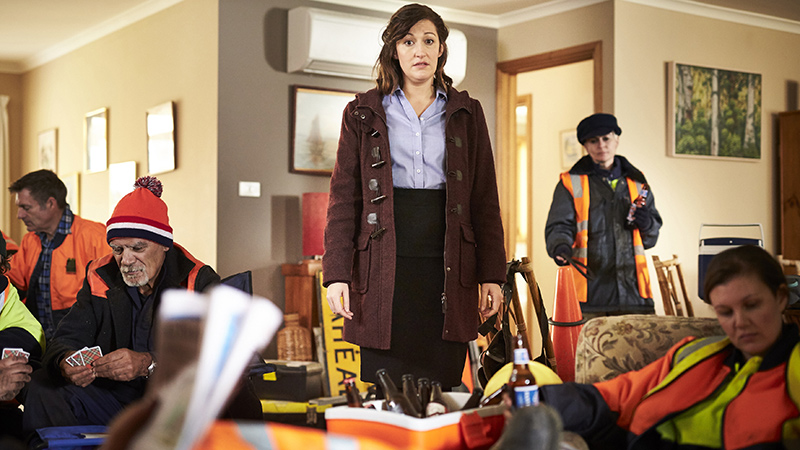 Over breakfast, Emma (Celia Pacquola) and Daniel (Luke McGregor) make fun of each others' eating habits. Barbara (Kris McQuade) watches them, annoyed.
Barbara and Daniel get ready to leave for Barbara's first day back at work. Emma needs to iron her shirt, so Barbara suggests she take Daniel's car to work. He tells her to be careful and not crash or change his seat or radio settings.
As Emma irons her shirt, a council worker doing road work nearby knocks on the door and asks to use the bathroom. She lets him in and then hears the worker using the shower.
At McCallum Real Estate, Daniel tells Barbara his plans for boosting business. He proposes going door-to-door to offer free home appraisals and appearing on a local radio show. Barbara commends Daniel for his ideas but adds that he shouldn't be surprised if they don't work. She mentions that Grace (Katie Robertson) appears on the radio show to offer health tips.
Daniel calls Emma and asks why she hasn't left for work. She tells him that a council worker is in the shower. Daniel says she shouldn't have let a council worker in the house because they never leave. He tells her to politely get rid of him.
Another worker arrives and asks Emma if he can heat up his breakfast. 
Daniel knocks on a woman's door and offers her a free home appraisal. The woman gets her husband who insults Daniel and calls him "human junk mail."
Daniel visits more homes and gets doors shut in his face. He calls Emma, who is still dealing with the multiple council workers now hanging out in the kitchen. One of the workers has an allergic reaction to tea.
At the radio station, Daniel apologizes to Grace for trying to kiss her. She tells him his mole scan showed a few sunspots. Daniel discovers that his childhood bully Bruce (Sam Cotton) and his buddy are the hosts of the morning radio show.
Emma tries to nicely ask the assembled workers to leave so she can go to work. She commiserates with the workers over Barbara not liking her and decides to have a beer with them.
On the radio show, Grace leaves to take a call from a patient. Daniel apologizes to Bruce for the pub fight. The show host and Bruce make fun of Daniel on the air for being a redhead and a virgin. Daniel tries to plug the free home appraisals, but the host and Bruce sidetrack him with questions about owning a cave. Emma calls in to give Daniel support. A man calls in to talk about his cave.
At the pub, Daniel and Grace discuss their almost-kiss. Daniel tells Grace he's missed kissing her. She concurs. They sit next to each other and kiss. He takes a call from Emma who is still dealing with the council workers. Grace asks Daniel if they were ever a couple. He says no and thanks her for kissing him.
At the office, Barbara gets a call from a customer who asks about the free home appraisal Daniel mentioned on the radio.
Emma attempts to get the council workers, who are performing circus tricks, out of the house. The workers disperse once they discover they're in Barbara's house.
Daniel arrives and finds Emma drunk and trying to clean up the council workers' mess. Barbara arrives and Emma takes the blame for the mess.
In the kitchen, Barbara tells Daniel he should ask Emma to leave. Daniel says he'll leave too if Emma has to go. Barbara agrees to let Emma stay, but says she has to stay at home away from the office. Daniel tells Barbara she needs to stay home as well and heal. Barbara agrees to work from home but plans to call into the office. She adds that Emma needs to clean up the mess.
Emma apologizes and tells Daniel she thinks Barbara doesn't like her. Daniel leaves Emma to go to bed. A council worker emerges from the bathroom and realizes the other workers have all left.
Rosehaven airs Thursdays at 1 am/12c on SundanceTV.
Stream Rosehaven full episodes online now (Episode 101 and 201 No Login Required).