Transparent Recap: Episode 207 (The Book of Life)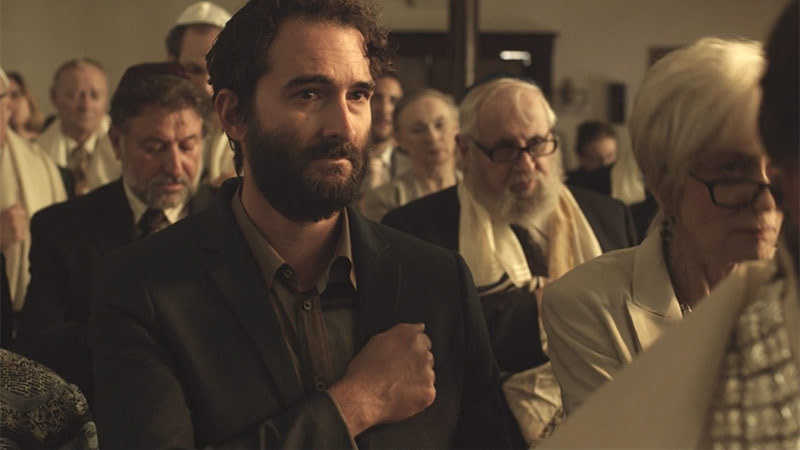 Sarah (Amy Landecker) meets with Tammy (Melora Hardin) at her design firm. Sarah apologizes and says her relationship issues stem from her need to be mothered and that she's come today to apologize as it is Yom Kippur. Tammy refuses her apology and walks away.
Syd (Carrie Brownstein) and Ali (Gaby Hoffmann) prepare for the Yom Kippur meal they're hosting. Syd is upset about Ali staying over at Leslie's (Cherry Jones) house. Ali says she's attracted to Leslie and suggests they keep their relationship open and make their own rules.
Sal (Ray Abruzzo) asks Maura (Jeffrey Tambor) about her hormone treatments and suggests surgery to make her appearance more feminine. He says he helped Shea (Trace Lysette) transform her appearance and can help Maura as well.
Shelly (Judith Light) and Josh (Jay Duplass) attend Yom Kippur service at the synagogue. They are greeted by Buzz (Richard Masur) who flirts with Shelly.
Josh asks Raquel (Kathryn Hahn) what he should say to his family about their engagement being called off. She says their relationship is over.
Sarah gets high with Dr. Steve (Jason Mantzoukas). They flirt, and she tells him not to refer to her as his "lover."
Syd expresses her fears about their relationship to Ali. Her parents arrive for Yom Kippur.
Maura tells Davina (Alexandra Billings) about Sal's comments on her body. She tells Davina she could do better than Sal. Davina tells Maura to mind her business and suggests she find somewhere else to stay.
Josh watches Raquel lead the Yom Kippur service. Buzz smiles at Shelly. Josh leaves the synagogue mid-service and removes his yarmulke.
While fooling around, Sarah tells Dr. Steve to be more aggressive. He suggests she ask his friend Gary about the BDSM scene. Sarah leaves and says she needs to be making amends for Yom Kippur.
Josh arrives for the Yom Kippur meal at Syd's and tells Ali that Shelly is bringing Buzz. He tells Syd's parents about Maura's gender transition.
Shelly briefs Buzz on her family. Maura arrives and meets Buzz who asks how Maura and Shelly know each other.
Sarah arrives for Yom Kippur. Josh tells everyone they can eat without Raquel. Ali gives a blessing and apologizes to everyone for anything she may have done. Everyone lifts a bagel and speaks the traditional blessing.
Josh tells everyone that he and Raquel broke up and are no longer having a baby. Shelly cries and blames herself for telling everyone about the baby at Tammy and Sarah's wedding. Buzz comforts Shelly and offers to drive her home. Maura tells Josh that it's okay to be sad. Josh says he doesn't need Maura's permission.
Syd and Ali clean up after the Yom Kippur meal.
Josh shops for groceries alone. He opens a bags of deli meat and cheese and furiously eats in the store.
Stream Transparent Season 1 online now.
Listen to this week's Transparent Playlist below, featuring songs from Episode 206 – 208.