Transparent Recap: Episode 110 (Why Do We Cover the Mirrors?)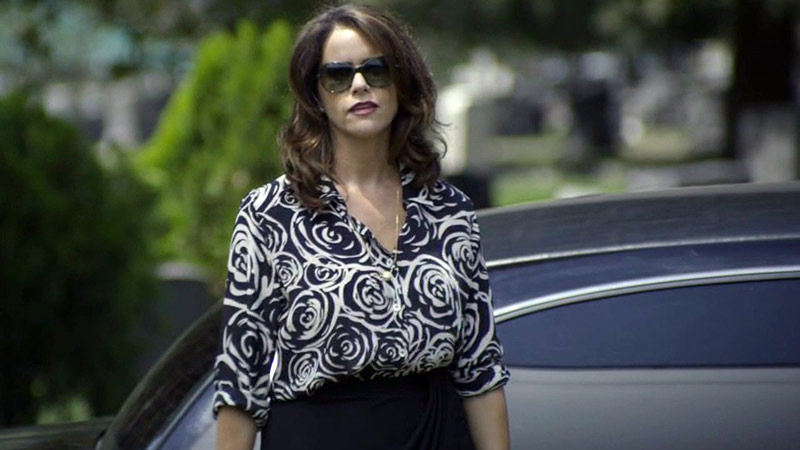 Ed (Lawrence Pressman) has passed away and is wrapped in white linen.
The Pfeffermans prepare for Ed's funeral. Davina (Alexandra Billings) applies perfume to Maura's (Jeffrey Tambor) face and wrists. Ali (Gaby Hoffmann), dressed in a suit, puts on a tie. Sarah (Amy Landecker) and Tammy (Melora Hardin) get their kids dressed, and Josh (Jay Duplass) buttons his sleeve cuffs while watching Bianca (Kiersey Clemons) and Margaux (Clementine Creevy) perform "Dreamboat Annie."
On her way out the door, Raquel (Kathryn Hahn) tells Josh they should keep their relationship quiet today.
Tammy and Sarah pick up Shelly (Judith Light), who has brought a tub of extra mustard "just in case" for the shiva.
Funeral attendees arrive at the cemetery. Sarah watches Len (Rob Huebel) hug their children. Ali points out Rita's (Brett Paesel) new "teenage boy toy" to Josh. Josh and Sarah join the pallbearers, while Len and Tammy jockey for a position carrying the casket. 
Rabbi Raquel eulogizes Ed's life. Shelly asks Sarah if she ordered coleslaw for the reception. Maura arrives with Davina and causes a stir among the attendees.
The family members take turns pouring dirt on Ed's coffin. Josh tells Shelly that everyone is staring at Maura. She tells him it doesn't matter. Len asks Sarah if he can be buried next to her and Tammy. Sarah agrees. Ali compliments Maura's Star of David necklace and asks when she got into Judaism. "Who knew?" Ali responds.
Syd (Carrie Brownstein) helps Ali cut her tie as per a Jewish funeral tradition. Ali asks Syd if Josh ever told her he loves her. Syd says Josh likes women to look at him with love, much like a serial killer wants to see the fear in their victims' eyes. Ali says she's upset that they lied to her and tells Syd she doesn't need to come to the shiva.
At the shiva, Maura corrects her niece when she calls her "Uncle Mort." Len and Sarah share a laugh over Shelly's obsession with the mustard.
Tammy kicks off the shiva and asks attendees to share their memories of Ed. Tiffany, one of the security guards from Ed and Shelly's condo, reads a poem. Sarah and Len laugh and retreat into the laundry room together.
Ali gives Raquel sheets to cover the mirrors in the house. Raquel explains the tradition is a way to be free from vanity. Ali reveals that her parents let her cancel her bat mitzvah as a child. Raquel says she's very happy with Josh. Ali tells her that Josh has difficulties staying in relationships and might be a "love addict."
Sarah and Len flirt in the laundry room and discuss her sex life with Tammy. Len tells Sarah he loves her. They start to get intimate but Len stops and tells Sarah he doesn't want to be a secret and that she doesn't have to be like the rest of her family. He leaves her alone in the laundry room. 
Josh notices Raquel leaving the shiva in tears and tells her he loves her and wants to have babies with her. He asks her if Syd or Rita said something to her. They argue and Raquel storms off.
Josh asks Rita if she said anything to Raquel. She asks if Raquel is his "latest conquest" and introduces Colton (Alex MacNicoll), who explains that Rita is his birth mom and Josh is his father.
Sarah tells Tammy they should get married.
Maura thanks family members for being nice during her "life transition" and shares a memory of standing in the girl's restroom line in school and feeling right. Shelly gets up to use the restroom.
Colton tells Josh about his life as a senior in Kansas. Josh says his life is a mess and Colton might end up not liking him. Colton says he'll like him no matter what happens.
Ali asks Shelly why she didn't make her have her bat mitzvah. Shelly reveals that Maura wanted to attend a cross-dressing camp the weekend of her planned bat mitzvah.
Ali confronts Maura about canceling her bat mitzvah to go to the cross-dressing camp. Maura tells her to not be so self-centered. Ali says the family's only religion is secrecy. Maura yells that Ali can't do anything and that's why Maura pays for her entire life. Ali throws money at Maura and says she can't scream at her anymore because she's an adult now. Maura asks Ali if she would even talk to her if she wasn't giving her money. Ali storms out, and Josh and Sarah follow her. Shelly comforts Maura. 
Ali starts to walk home alone.
That night, Shelly, Maura and Sarah eat leftovers. Sarah reveals that she and Tammy are getting married. Maura says she approves. Josh and Colton arrive and Colton introduces himself to the family. Colton leads the family in a Christian prayer. Ali comes back and Maura tells her it's OK to sit with the family. Colton suggests that everyone hold hands for the prayer. Ali holds a strand of Sarah's hair. Colton says the prayer and ends on "In Jesus's name we pray" to which Maura replies, "Oy gevalt."
Stream full episodes of Transparent online now.
Sign up for the SundanceTV Newsletter to be among the first to receive full episodes of Transparent.
Listen to this week's Transparent Playlist below, featuring songs from Episode 110 – 202.