Sundance Now to Exclusively Stream the 32nd Film Independent Spirit Awards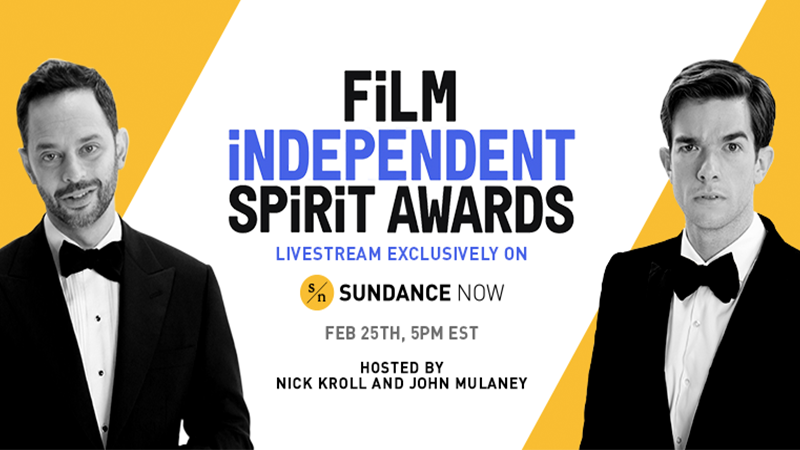 Sundance Now, the online streaming service offering an array of curated content including award-winning independent films, documentaries and TV series, has announced plans to live-stream the Film Independent Spirit Awards concurrently with the live telecast on IFC on Sat., Feb. 25 at 5/4c. An archived version of the Spirit Awards will also be made available exclusively for Sundance Now members shortly after the telecast concludes. Oh Hello on Broadway stars Nick Kroll and John Mulaney will host the 2017 Film Independent Spirit Awards, which will be presented to a field of nominated films that includes Manchester by the Sea, Moonlight, American Honey and O.J.: Made in America.
This marks the first time that Sundance Now is making an awards show available to its members and is expected to be the first of a series of live events that will be viewable on the service.
Anticipated Spirit Awards attendees include acting category nominees like Natalie Portman (Jackie), Annette Bening (20th Century Women), Casey Affleck (Manchester by the Sea), Viggo Mortensen (Captain Fantastic), Ralph Fiennes (A Bigger Splash), Shia LaBeouf (American Honey), and nominated filmmakers including Barry Jenkins (Moonlight) and Kelly Reichardt (Certain Women). Moonlight, which recently won the Golden Globe Award for best motion picture, drama, has been selected to receive the prestigious Robert Altman Award, named after the late filmmaker, which goes to a specific film's director, casting director and cast.
Film fans who would like to stream the Spirit Awards live can sign up for a 7-day free trial of Sundance Now at sundancenow.com.
"The Film Independent Spirit Awards are among the most prestigious honors in all of filmmaking, and we are humbled and excited to be able to stream them exclusively on Sundance Now," said George Schmalz, Sundance Now curator.
"Film Independent works to support independent artists at all levels of the industry, and part of our mission is to bring so-called specialty films to the broadest possible audience," said Josh Welsh, president of Film Independent. "Having the Spirit Awards available to stream exclusively on Sundance Now is a huge step in that direction, in that it gives emerging filmmakers access to a passionate, sophisticated and young audience online."
To become a member of Sundance Now, sign up online at sundancenow.com for a 1-month free trial ONLY for SundanceTV fans (use promo code SUNTV), then pay $6.99/month or $59.99/annual membership fee. Sundance Now is accessible via web, iOS, Android, Roku, Apple TV, and Chromecast.
Follow Sundance Now on Twitter @sundance_now, Facebook Sundance Now, Instagram @SundanceNow and YouTube Sundance Now.