10 Underrated Johnny Depp Movies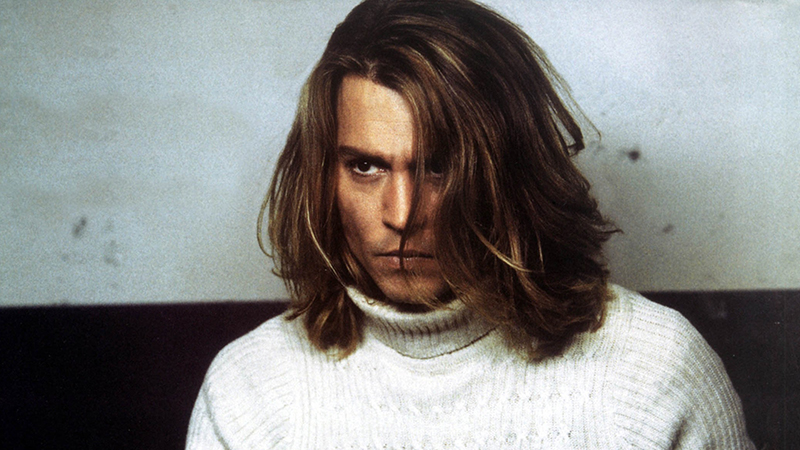 From topiary-obsessed freaks with scissor hands to tipsy sailors of the high seas, Johnny Depp has a knack for playing lovably bizarre weirdos. But when he isn't buried under a wig and heavy makeup, Depp has also turned in some strong performances in underrated genre films and quirky indie gems.
Before you catch him in the drug-fueled epic Blow on SundanceTV Wed., Jan. 4 at 5/4c, check out a few unappreciated films from Johnny Depp's eclectic filmography.
10. The Libertine (2004)
The role of boozing, poetic John Wilmot, the second Earl of Rochester, seems tailor-made for Depp, who brought soul to this sumptuous period drama. One of many roles that allowed Depp to put on a wig and adopt a vaguely British accent, The Libertine also gave the actor a chance to showcase his dramatic chops opposite a solid cast that includes Samantha Morton and John Malkovich. A must for fans who enjoy seeing Depp letting his freak flag fly.
9. Arizona Dream (1993)
If Jerry Lewis, Johnny Depp and Vincent Gallo as used car salesmen and Faye Dunaway building a flying machine sounds appealing, then this is the movie for you. Directed by acclaimed filmmaker Emir Kusturica (Underground), this freewheeling surrealist dramedy finds Depp playing a young man who gets pulled into a world of oddballs after returning home to Arizona. With a soundtrack by Iggy Pop, Arizona Dream fits squarely into the quirkier side of Depp's filmography. Critics adored it (The New York Times called it "a wildly off-the-wall reverie"), but the movie barely made a dent when it was finally released in the U.S. in 1994. Fans of Depp's work in quirk-fests like What's Eating Gilbert Grape and Benny & Joon should definitely take this trip.
8. Transcendence (2014)
Audiences and critics were split on Depp's 2014 sci-fi thriller, with some finding it thought-provoking and timely while others dubbed it a pretentious bore. But with increased talk about the age of the singularity, the film is looking more and more prescient. Stylishly directed by famed cinematographer Wally Pfister (The Dark Knight), this tale of a scientist (Depp) whose consciousness is uploaded into a supercomputer by his wife and partner (Rebecca Hall) works best as a tense love story set in a future that is increasingly right around the corner.
7. The Ninth Gate (1999)
Horror master Roman Polanski (Rosemary's Baby) helmed this eerie thriller where Depp plays a book dealer who gets pulled into a mystery involving a tome purportedly penned by Lucifer himself. Polanski brings his knack for supernatural scares, while Depp traipses around the globe matching wits with Frank Langella's creepy baddie. The film's haunting ending is still debated today.
6. Nick of Time (1995) 
Depp's brief flirtation with mainstream action movie roles resulted in this 1995 thriller that takes place in real time. Though its box office failure sent Depp back to the indie world for a while, Nick of Time offers a peek at an alternate reality where Captain Jack Sparrow became the next Bruce Willis. With Christopher Walken hamming it up as a mysterious villain who forces Depp's mild-mannered character to assassinate a politician, this flick is a blast of retro '90s fun. (Look for Charles "Roc" Dutton as a shoe shine guy.)
5. From Hell (2001)
Released in the days before multiplexes were littered with comic book flicks, this 2001 adaptation of Alan Moore and Eddie Campbell's acclaimed graphic novel about the Jack the Ripper murders was met with mixed reviews and moderate box office receipts. But when viewed alongside fellow Moore adaptations Watchmen and V for Vendetta, From Hell stands out thanks to moody direction from the Hughes Brothers and Depp's performance as the opium-addicted Inspector Abberline. If you can get past Heather Graham's cockney accent, From Hell offers a twisty and blood-soaked take on the famed serial killer myth.
4. Cry-Baby (1990)
Depp tweaked his 21 Jump Street-era heartthrob status as an Elvis meets James Dean-esque rebel in John Waters' musical comedy. While Waters' follow-up to his hit comedy Hairspray didn't light the box office on fire, Cry-Baby eventually developed a cult following (and spawned a Broadway musical) thanks to Depp's rising star and the film's cheeky homage to the "teen rebel" genre. Stocked with Waters regulars like Ricki Lake and Mink Stole, Cry-Baby is an early showcase for Depp's quirky side and the first sign of his knack for working with offbeat filmmakers.
3. Blow (2001)
When it first hit theaters in 2001, Blow was unfairly compared to classic coke-addled crime epics like Goodfellas and Scarface. But this real life tale of drug trafficker George Jung (Depp) and his dealings with Pablo Escobar (Cliff Curtis) and the Medellin cartel deserves to be viewed on its own high-octane merits. Directed with style by the late Ted Demme, Blow features strong performances from Depp, Penelope Cruz and Paul Reubens, who ditches his Pee-wee Herman persona to play a flamboyant pot dealer.
2. Secret Window (2004) 
Depp plays a writer stalked by a man who believes his work has been plagiarized in this tense thriller from the mind of Stephen King. While a modest box office success, Secret Window was somewhat forgotten in a year that saw Depp earning acclaim for playing Peter Pan author J.M. Barrie in Finding Neverland. With sharp direction from David Koepp (Stir of Echoes), Secret Window fits nicely next to The Shining and Misery in a Stephen King "frustrated writer" triple feature.
1. Dead Man (1995)
Jim Jarmusch's existential Western deserves to be on every list of Depp's greatest films. With an eclectic cast that includes Billy Bob Thornton, Robert Mitchum and Crispin Glover, and gorgeous black-and-white cinematography, Dead Man finds Depp playing an accountant (who just might be the reincarnation of the poet William Blake) hunted by bounty hunters and marshals to the tune of a plaintive Neil Young score. Depp's performance and the film's moving ending has helped to earn Dead Man a well-deserved cult following.
Don't miss Johnny Depp in Blow on SundanceTV Wed., Jan. 4 at 5/4c.