25 "Thelma & Louise" Facts for Its 25th Anniversary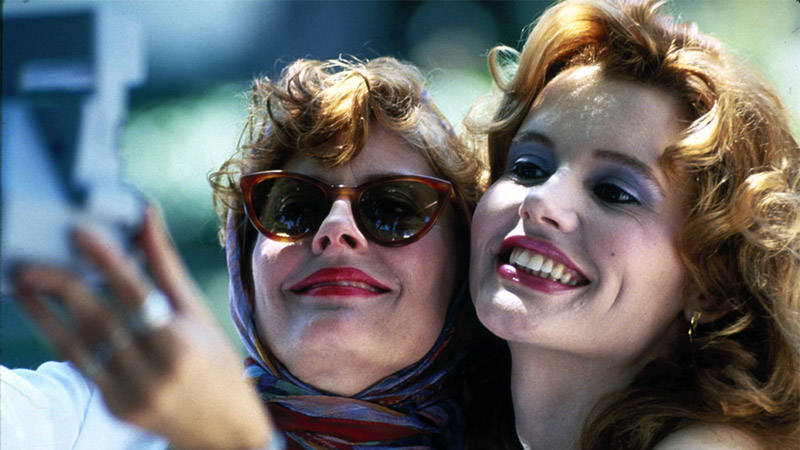 Twenty-five years ago, Thelma (Geena Davis) and Louise (Susan Sarandon) sailed over the Grand Canyon and into movie history. With Thelma & Louise airing Wed., Dec. 7at 7/6c on SundanceTV, we're paying tribute to the feminist icons with some facts about a film that we still love 25 years later. Check them out below, and be sure to stay tuned after the movie for the penultimate episode of the powerful final season of Rectify at 10/9c.
1. George Clooney is still upset over losing the J.D. role
Clooney revealed at the Telluride Film Festival that he's still "upset" that his Ocean's Eleven costar Brad Pitt got the role of hunky thief J.D. over him. A fellow struggling TV actor at the time, Clooney auditioned several times for the J.D. role along with Pitt. The actor-director said he couldn't watch the film for many years, but now realizes that Pitt was right for the role and he would have "f—ed it up somehow."
2. Brad was paid a "Pitt-ance"
Brad Pitt was an unknown actor with only a handful of minor TV and film roles under his belt when he was cast in Thelma & Louise. Which explains why the future superstar was paid a mere $6,000 for his brief but memorable role. Though considering how much time he spends shirtless, it's safe to say the filmmakers got their money's worth.
3. The ending kiss was Susan Sarandon's idea
Sarandon revealed in interviews that the closing kiss between Thelma and Louise was her idea. Scott and the crew were surprised when it happened, as Sarandon had only told Davis that the characters would lock lips before driving over the Grand Canyon.
4. Geena Davis wanted Brad Pitt for the J.D. role
Davis admits she was flustered while auditioning with Pitt, flubbing her lines while in the presence of the almighty Brad. When Ridley Scott and the casting director discussed which hunk should play J.D., Davis said they should go with "The blonde one. Duh!"
5. Geena Davis didn't use a body double in the sex scene
While Penthouse model Julie Strain was tapped to be Davis' body double, the actress opted to film the sex scene with Brad herself. "No kidding," said every Brad Pitt fan ever.
6. Holly Hunter and Frances McDormand almost played Thelma and Louise
Originally Hunter and McDormand were considered to star in a low-budget indie version of Thelma & Louise. When Ridley Scott came onboard as a producer, the film suddenly became a hot Hollywood prospect and big name stars were considered. Had Hunter and McDormand starred, Thelma & Louise would've been a reunion of sorts. The acclaimed actresses had been roommates at Yale Drama School.
7. The original J.D. was a Baldwin
No, not Alec. Billy Baldwin was originally cast as J.D., but dropped out to star in Backdraft. After another actor dropped out for a TV series, Brad Pitt finally scored the role that would make him a star. (Ironically Backdraft was another movie Pitt was up for. Oh, Hollywood!)
8. Thelma & Louise was almost a Goldie Hawn and Meryl Streep vehicle
Hawn and Streep were interested in playing Thelma and Louise, but ultimately decided to pass and star in the Robert Zemeckis comedy Death Becomes Her. Streep also had her own take on the script, thinking that Thelma and Louise should've lived in the end.
9. Ridley Scott watered down Brad's abs during the sex scene
As the director of such films as Alien and Blade Runner, Ridley Scott clearly has an eye for talent. So it's no wonder that he realized that the sex scene between J.D. and Thelma was Brad Pitt's star-making moment. Davis told Vanity Fair that Scott got really hands-on during the sex scene, telling the crew to "muss up" Brad's hair and spraying the actor's abs himself with Evian water.
10. Susan Sarandon lobbied for the ending
While different endings were considered and filmed, Sarandon was adamant that the film shouldn't have a concrete ending. Her previous film, the thriller White Palace, had its ambiguous ending changed for a more upbeat finale, and Sarandon didn't want Thelma & Louise to meet the same fate. Scott promised his star that the ending wouldn't change, thus making movie history.
11. Geena Davis and Susan Sarandon were actually drunk during the roadhouse scene
Davis and Sarandon got into the wild mood of the roadhouse by asking the prop person for real tequila to drink. Davis remembers the duo "pounded back quite a few" and were laughing and feeling "pretty drunk" during the scene.
12. Michael Madsen and Brad Pitt got "mellow" between takes
Pitt is known for his fondness for weed, so it isn't surprising that the actor indulged in some herb between takes with costar Michael Madsen, who played Jimmy. Madsen told Vanity Fair, "We got stoned together a couple of times. Every actor finds his way to make it work; that was his thing." Sadly a Madsen/Pitt stoner comedy never came to pass.
13. Michelle Pfeiffer and Jodie Foster were early choices for the leads
Ridley Scott tried to get Thelma & Louise made for a number of years, first as a producer. Initially Tuesday Weld and Natalie Wood were considered for the lead roles, but Wood's 1981 death halted the project. Michelle Pfeiffer and Jodie Foster then came on board, but had to drop out due to other commitments. But Pfeiffer would prove to be influential when it came to who would direct the film…
14. The director of Waterworld almost drove Thelma & Louise
Many directors were up for the Thelma & Louise gig before Ridley Scott took over. Five Easy Pieces' Bob Rafelson was one of the names thrown out, as well Richard Donner (Lethal Weapon), Brian De Palma (Carrie), horror master John Carpenter and legendary filmmaker Sidney Lumet. Robin Hood: Prince of Thieves director Kevin Reynolds was also up for Thelma & Louise before Scott decided to take over the director's chair at Michelle Pfeiffer's urging. Reynolds would go on to direct Kevin Costner in Waterworld, a box office bomb which went off a cliff in a totally different way.
15. Geena Davis originally wanted to play Louise
Davis campaigned heavily for the role of Louise, eventually realizing that she should play Thelma. But Ridley Scott didn't decide who should play the roles until he and Davis met with Susan Sarandon. "Susan had the authority, the sensibility. She was Louise," Davis recalls. "Pretty much the second Susan walked in the room, I was [like], 'Are you kidding that I could play Louise?'"
16. Thelma and Louise's fate is more definitive in an alternate ending
An alternate ending included on the Thelma & Louise DVD shows the Thunderbird crashing into the Grand Canyon as Det. Slocumb (Harvey Keitel) looks on. The Thunderbird is then shown driving through the desert, perhaps suggesting that Thelma and Louise will keep on going even in the afterlife.
17. Several Ford Thunderbird convertibles were used
Five versions of Thelma and Louise's iconic car are featured in the film. Two stunt cars were required, as well as one for the stars, one for the camera crew and one back-up vehicle.
18. A country legend inspired Thelma
Growing up in Texas and Kentucky helped Callie Khouri form the characters that populated her breakthrough screenplay. She also spent time in Nashville, working in music video and commercial production while writing Thelma & Louise. There she met singer-songwriter Pam Tillis and was taken with the future country music star's passion for art and life. Tillis is said to have been the basis for the character of Thelma, while Khouri would return to the world of country music for her hit TV series Nashville.
19. The tanker explosion was genuinely surprising
Ridley Scott had the tanker rigged to explode during a take in order to get genuine reactions from his stars. But Susan Sarandon and Geena Davis were so surprised by the explosion, they forgot to react in character. Thus, the reactions needed to be filmed again.
20. The final scene wasn't filmed at the Grand Canyon
Despite featuring one of the most famous Grand Canyon scenes of all time, Thelma & Louise never actually filmed at the famed landmark. The iconic driving off the cliff scene was shot near the Dead Horse Point State Park in Utah.
21. Thelma & Louise inspired a moving Tori Amos song
Acclaimed singer-songwriter Tori Amos was working on her debut album, Little Earthquakes, when she went to see Thelma & Louise. The film inspired Amos to write the song "Me and a Gun," a harrowing a cappella depiction of the kidnapping and sexual assault she had experienced as a young woman on the music scene. The song became a fan favorite and led to Amos founding RAINN, an organization that helps victims of sexual abuse and assault.
22. Thelma almost survived
While filming, Ridley Scott considered the idea of having Louise push Thelma out of the Thunderbird before it careens off the cliff. But in the end, Scott felt that both characters earned their tragic ending and the infamous freeze frame moment with both Thelma and Louise in the car won out.
23. Christopher McDonald was Geena Davis' real life ex
McDonald memorably played Thelma's domineering husband, Daryl. The actor had experience being in a relationship with Davis, as the pair were once engaged. McDonald told the L.A. Times that reuniting with his ex on the film was "cathartic."
24. Louise's vomit is part of a balanced breakfast
Susan Sarandon revealed that egg whites were used for the scene where Louise gets out of the car and vomits. What, no pea soup? It worked in The Exorcist.
25. Susan Sarandon parodied the ending with James Corden
The ending of Thelma & Louise is one of the most spoofed in film history, with everyone from Wayne and Garth to the video game Grand Theft Auto V poking fun at the duo's final moments. In 2015, Sarandon got back behind the wheel on The Late Late Show with James Corden for a series of alternate spoof endings. One ending imagined what Thelma and Louise argued about as they descended down the Grand Canyon. Check them out here and marvel at Corden channeling Geena Davis' thick accent and copious curls.
Need to catch up on RECTIFY? Find out where to stream, download or purchase Seasons 1-3. And watch RECTIFY Season 4 full episodes on sundance.tv.
RECTIFY's powerful final season airs new episodes Wednesdays at 10/9c on SundanceTV. To be the first to receive news and updates about the show, sign up for the newsletter.