The Object of Our Affection: 9 Quintessentially Paul Rudd Performances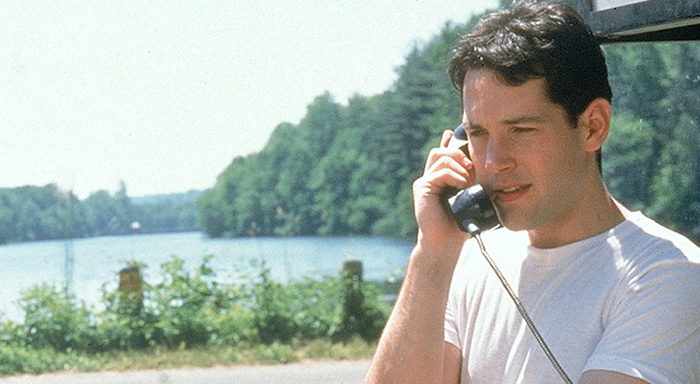 Few actors ooze charm in an Everyman role like Paul Rudd. Whether he's playing awkward or suave, a leading man or a comedic cameo, there's always an underlying sense of humility in Rudd's performances that audiences clearly adore.
1. Anchorman: The Legend of Ron Burgundy
As Brian Fantana, the "stylish one" of the Channel 4 News Team, Rudd draws inspiration from the '70s for his mustachioed ladies' man dripping with cologne. Despite his bravado and some subpar pick-up lines, Rudd's alter ego still conveys genuine innocence and warmth.
2. Ant-Man
Superhero meets average Joe in Scott Lang, the thief hired by a scientist (Michael Douglas) to retrieve some shrinking-suit technology. Rudd cracks wise while displaying his signature easygoing demeanor — except this time around, he's got a cool costume.
3. Clueless
Rudd's breakout role as Josh, ex-stepbrother to spoiled Cher (Alicia Silverstone), set a new standard for bumbling adorableness. Whether he's scoffing superficiality or begrudgingly coming to Cher's rescue, Rudd is totally swoon-worthy. Cher may not fall for Josh until the end but fans were smitten from the start.
4. I Love You, Man
As Peter Klaven, a recently engaged guy with no male friends, Rudd's role here is like the male AND female leads of a standard rom-com rolled into one. After a hilarious montage of bad friend dates, Peter meets Sydney (Jason Segel) and the bromance begins.
5. Knocked Up
Rudd and filmmaker Judd Apatow have cornered the market on man-children struggling with adulthood. In Knocked Up, Rudd plays a supporting character named Pete who fails at family life more than he succeeds.
6. The 40-Year-Old Virgin
Celibate Andy (Steve Carell) needs advice on love, but is Rudd's David the one to give it? While David initially seems like Andy's most normal co-worker at SmartTech, he slowly reveals himself to be a twisted mess with his own serious woman problems, which culminate in a hysterical breakdown on the showroom floor.
7. The Object of My Affection
Rudd's resume includes a fair share of '90s rom-coms, but this tale of gay-straight friendship written by Wendy Wasserstein puts a different spin on the genre as Rudd plays George, a gay teacher whose relationship with straight roommate Nina (Jennifer Aniston) turns thorny when she develops a crush on him. Can you blame her?
8. The Shape of Things
In one of his darkest roles, Rudd portrays Adam, a schlumpy student and part-time museum guard whose art-student girlfriend (Rachel Weisz) tries to revamp his looks, wardrobe and social life. When Adam learns the true motivation behind her makeover, his world falls apart.
9. Wet Hot American Summer
Obnoxious, irresponsible counselor Andy (Rudd) whines, flips the bird, refuses to clean up after himself and makes out with multiple girls (including his girlfriend). This send-up of '80s summer-camp movies proves that even when he's a total jerk, Rudd's still irresistible.
Now check out our list of seven roles Bill Murray was just born to play.