Sibling Rivalry: 8 Movies Where Brother Squares Off Against Brother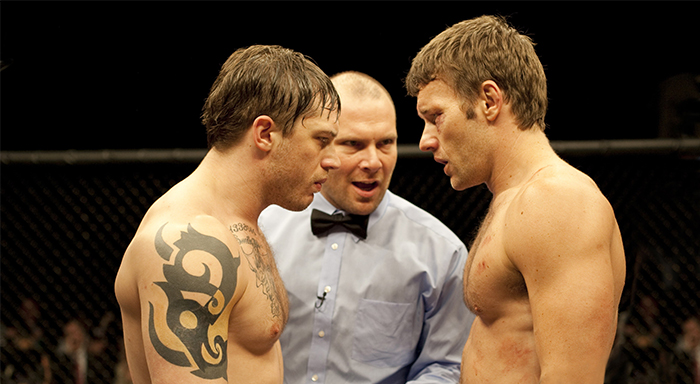 A century ago, the Easter Rising—a watershed moment in Ireland's independence movement—pitted Irish revolutionaries against British colonialists. In the miniseries event REBELLION, premiering on SundanceTV Sun., Apr. 24 at 8/7c, Irishman Arthur Mahon (Barry Ward) joins the British army to support his family and faces his brother Jimmy (Brian Gleeson) in the Rising. Here are eight movies which likewise find brother squaring off against brother.
1. A History of Violence
Tom (Viggo Mortensen) is living a quiet life in Indiana, where no one knows he's hiding from the Irish mob. After expertly dispatching a couple of would-be criminals, Tom becomes a local celebrity. The fame attracts people from his past, including his brother Richie (William Hurt), who seeks vengeance for the damage Tom did in his past life.
2. East of Eden
In this classic drama's Cain and Abel plot, brothers Cal (James Dean) and Aron (Richard Davalos) compete for the approval of their puritanical father (Raymond Massey) and the attention of Aron's girlfriend Abra (Julie Harris). When Aron's jealousy comes to a head, an angered Cal reveals a family secret that turns their world upside down.
3. Raging Bull
The bond between boxer Jake (Robert De Niro) and brother Joey (Joe Pesci) is solid until Jake's pathological insecurities convinces him that Joey bedded Jake's wife Vicki (Cathy Moriarty). After Jake pummels Joey in front of his own family as punishment, their ensuing fallout leads to Jake's personal and professional downfall.
4. Ran
Aging warlord Hidetora Ichimonji (Tatsuya Nakadai) demands that his three sons remain united after he divvies up his kingdom between them. When youngest son Saburo (Daisuke Ryu) balks at his father's request, he's exiled. Soon after, the two eldest sons turn against one another AND their father in a battle for the entire kingdom.
5. The Fighter
When washed-up pugilist Dicky (Christian Bale) finds out that his half-brother Micky (Mark Wahlberg) has hired a new boxing trainer, the two quickly come to blows. Luckily, Dicky realizes he must put his ego aside if he wants Micky to succeed; only after the two defeat their adversaries — Micky's, in the ring; Dicky's, within himself — they're truly able to bury the hatchet.
6. The Godfather Part II
This sequel sets the stage for the rivalry between Michael Corleone (Al Pacino) and his brother Fredo (John Cazale). Upset at being passed over for head of the family, Fredo tries to join forces with Michael's partner Hyman Roth (Lee Strasberg), who organizes a hit against Michael. Fredo claims ignorance. Michael knows better.
7. Thor: The Dark World
Throughout the Thor franchise, the relationship between its titular superhero (Chris Hemsworth) and his adoptive brother Loki (Tom Hiddleston) is complicated. After Thor thwarts several of Loki's schemes for world domination, they form an uneasy alliance to defeat the leader of the Dark Elves (Christopher Eccleston), who intends to destroy the Nine Realms.
8. Warrior
Estranged brothers Tommy (Tom Hardy) and Brendan (Joel Edgerton) haven't seen each other since childhood, when Tommy ran away with their mother to escape their alcoholic father (Nick Nolte). When Tommy and Brendan face off in the finals of a martial arts competition, each brings a lifetime of grudges and regrets into the ring.
The special three-night miniseries event REBELLION premieres Sun., Apr. 24 at 8/7c.