So Edgy! Eddie Murphy's 6 Most Daring Roles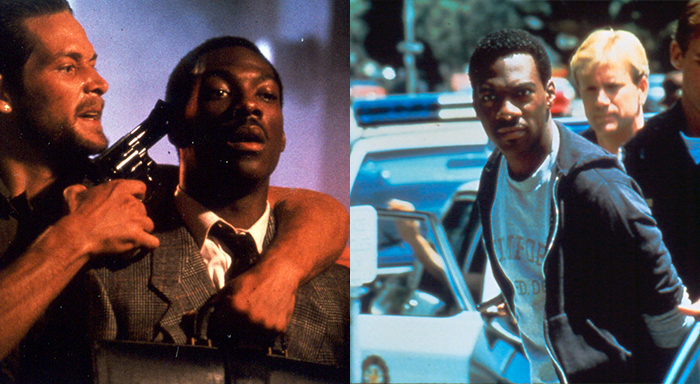 At one point, Eddie Murphy's mainstream appeal made him one of the most bankable stars in Hollywood. But even since his days as a Saturday Night Live standout, a subversive streak has coursed through every character he plays, making his performances not just appealing, but also a little rebellious. In honor of the actor's 55th birthday, here are six of Murphy's most daring roles.
1. 48 Hrs.
Murphy hit the jackpot with his debut movie, a critical and commercial smash that reinvented the buddy-cop genre for modern audiences. As a paroled criminal who teams up with a hard-nosed cop (Nick Nolte) to hunt down a murderer, Murphy improvised most of his dialogue while creating unforgettable chemistry with Nolte.
2. Beverly Hills Cop
Like 48 Hrs., you can credit Murphy's performance in this hit movie for cementing the everlasting appeal of a rogue cop who breaks all the rules. As smart-talking Axel Foley, who travels from Detroit to L.A. to solve his friend's murder, Murphy creates a modern antihero who's simultaneously manic yet laconic, tough yet vulnerable, headstrong yet hilarious.
3. Boomerang
Murphy audaciously entered the realm of the rom-com with this story (which he also co-wrote) about an unapologetic womanizer who meets his match when he loses out on a plum executive position to a steel-willed career woman (Robin Givens) whom he can't help falling for. The risk of playing an unlikable Lothario gave Murphy a chance to show off his dramatic side.
4. Dreamgirls
Murphy was famous for his James Brown impersonation during his SNL tenure. There's a cheeky whiff of that impression in his portrayal of R&B sensation Jimmy "Thunder" Early here. Fans and critics alike have hailed Murphy's take on the charismatic crooner with a troubled personal life as the most accomplished of his career.
5. Shrek
Even when he plays the sidekick, the irrepressible Murphy steals the show. As the animal companion to the titular ogre (Mike Myers), Murphy brings his signature mix of sass and heart to Donkey, a character equally adored by kids and grownups.
6. Trading Places
Bucking every movie cliche about the wise vagabond, Murphy's homeless hustler Billy Ray Valentine is a conniving swindler who's happy to ruin the lives of others for the sake of his own. Luckily for Louis Winthrope III (Dan Aykroyd), whose life is turned upside down when two tycoons (Don Ameche and Ralph Bellamy) play a prank on him, Billy needs Louis to help him exact revenge on the old fatcats so they can both live wealthily ever after.
Find out when you can watch Beverly Hills Cop on SundanceTV.