7 Things You May Not Know About "Bad Boys"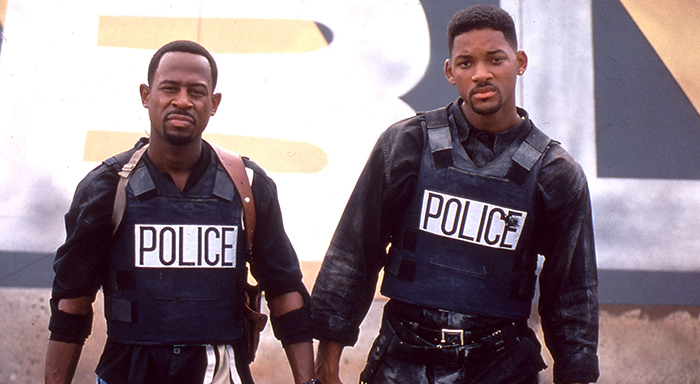 It's been more than 20 years since Will Smith and Martin Lawrence teamed up on the landmark action hit Bad Boys, which not only served as a fantastic vehicle for their dynamite chemistry, but also launched the career of a music-video director named Michael Bay. In honor of the movie's anniversary, here are a few things about Bad Boys that might surprise you.
1. The Movie was Developed for Dana Carvey and Jon Lovitz
Producers Jerry Bruckheimer and Don Simpson developed the movie for the SNL co-stars based on a script called Bulletproof Hearts that was allegedly loathed all over Hollywood. According to Lovitz, when the project switched studios from Disney to Columbia, top brass decided to rewrite that script with African-American leads in mind.
2. Arsenio Hall was Originally Offered Smith's Role
At the peak of his '90s fame, the host of The Arsenio Hall Show turned down the role of Detective Mike Lowrey. In a 2013 interview, Hall claimed to be at peace with the decision and other "bad choices." He added, "I wanted to study and take it seriously and not just be the talk show host who is popular so he gets a role."
3. Dialogue Was Heavily Improvised
When the movie finally made it into production, Lawrence, Smith and Bay agreed on one thing: They still had issues with the script. Bay encouraged both sitcom stars to ad-lib while stoking tension between them to keep the energy high. After Lawrence complained about Smith calling him a "bitch" in an earlier conversation, Bay secretly instructed Smith to hurl the expletive at his partner over and over in the next take.
4. There's One Line Smith Wouldn't Say
According to Bay's DVD commentary, Smith argued with him over his character telling Lawrence, "I love you, man." After wasting most of a day on their standoff, Bay finally told Smith to do whatever he wanted. On the final take, Smith delivered the line.
5. Tea Leoni Didn't Enjoy Herself
As murder witness Julie Mott, Leoni felt "like a rag doll being slammed around" during the shoot. After missing her mark during one take, a stunt double's AK-47 caught her jaw, knocking her out cold and sending her through a plate glass window. "I started to cry," Leoni has said about the incident, "because I'd never thought that the chill of Hollywood would be so close in my face."
6. Michael Bay Took the Project Personally
Bay has criticized Bad Boys in recent years for falling short of his perfectionist standards. During production, he paid $25,000 out of his own pocket to beef up the explosions and shootouts because he was unhappy with the budget for the movie's final action sequence.
7. Keep an Eye Out for The Sopranos 
Joe Pantoliano plays Bad Boys' conflicted police captain, while Michael Imperioli portrays a junkie confidential informant, a role that bears more than a passing resemblance to his Sopranos alter ego Christopher Moltisanti. Maybe showrunner David Chase was a big Bad Boys fan!
For more movie trivia, check out our list of 10 things you might not know about Reservoir Dogs.