That's Revolutionary: 4 Movies About Ireland's 1916 Easter Rising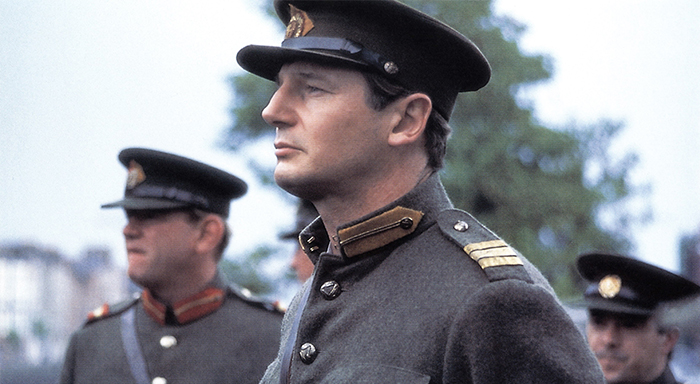 The 1916 Easter Rising was a key moment in Ireland's independence movement, and although it was crushed by the British military within six days, the rebellion had a lasting impact on British colonialism and, 100 years later, remains a point of focus for those examining Irish history. The three-night miniseries event REBELLION, premiering on SundanceTV Sun., Apr. 24 at 8/7c, follows mostly fictional (and a few real) characters through this turbulent historical event. To learn more about the Easter Rising, see the movie recommendations below.
1. 1916: The Rebellion
This Irish-produced doc chronicles the moment the outbreak began, its suppression by British armed forces and its aftermath. Like the many nonfiction books published on the event over the past 100 years, 1916 offers a detailed account of the Rising's significance in both Irish and British history.
2. Angel of 1916
Liam "Willie" McNieve, one of the few survivors when British troops stormed rebel headquarters at Dublin's General Post Office, serves as the de facto narrator of this animated short. Using a recorded interview conducted with McNieve years after the Rising, Angel of 1916 offers a gripping account of the events that embody the struggle for a free Ireland.
3. Michael Collins
Although this biopic's key events unfold a few years after the Rising, its titular revolutionary (Liam Neeson) was already a fast-rising figure in Ireland by 1916 as early scenes in Neil Jordan's movie introduce Collins supporting his fellow rebels before being captured by the British. Collins once famously told comrade-in-arms Harry Boland, "We won't play by their rules, Harry. We'll invent our own." Which is exactly what he went on to do.
4. The Wind That Shakes the Barley
Two fictitious brothers from County Cork (Cillian Murphy and Padraic Delaney) join the IRA in its fight against British rule. Like Michael Collins, Ken Roach's docudrama focuses on the chaos that befell Ireland's independence movement after the Rising — particularly the sadistic treatment the UK's "Black and Tans" administered on the Irish which led to a civil war.
The special three-night miniseries event REBELLION premieres Sun., Apr. 24 at 8/7c.