Doin' It for Themselves: 8 Biopics for Women's History Month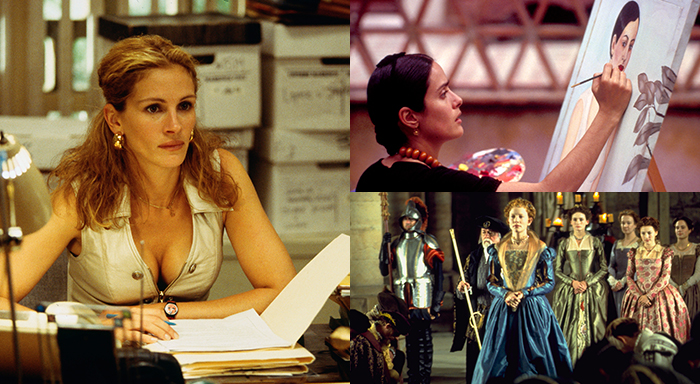 The best biopics enrich historical fact with artistic license to paint compelling portraits of true-life subjects. In honor of Women's History Month, here are eight movies about women who lived large (first in the real world, then on the big screen).
1. Coal Miner's Daughter
The life of country singer Loretta Lynn (Sissy Spacek) has all the makings of a classic biopic: humble beginnings, a complicated romantic relationship, a rise to fame (achieved with hard work, modesty and sass), followed by a nervous breakdown then a triumphant comeback. By the time Spacek takes to the stage to sing the movie's title song, Loretta and her husband (Tommy Lee Jones) feel like family.
2. Elizabeth
Elizabeth I's reign is considered by some as England's Golden Age but it sure didn't start that way. Director Shekhar Kapur begins this biopic with Elizabeth's (Cate Blanchett) ascent to the throne at a time when Catholicism was England's national religion and Protestants like her were burned at the stake. The movie details how she learned to rule while deflecting the pressure to marry — and fending off attempts on her life. Long live the Queen.
3. Erin Brockovich
Julia Roberts gives arguably her best performance as an unemployed single mom who's got the moxie to wrangle a job out of her lawyer (Albert Finney) after she loses a lawsuit over a car accident. As the movie tells it, Brockovich goes on to single-handedly bring Pacific Gas and Electric to its knees for lying about the type of chromium used in the plumbing of a small California town.
4. Frida
Julie Taymor's biopic about artist Frida Kahlo (Salma Hayek) opens with Kahlo being carried on her bed to her one-woman exhibition the doctor told her she couldn't leave her bed to attend. That sort of defiance plays out throughout, as we're taken via flashback to the near-fatal accident that caused Kahlo to transform a life of physical pain into richly imagistic paintings.
5. Hilary and Jackie
This pic about world-famous cellist Jacqueline du Pre (Emily Watson) is essentially about her relationship with her sister Hilary (Rachel Griffiths), a talented flutist. Jackie's rise to fame is first seen through the eyes of Hilary, who considers her a fierce rival; then from Jackie's perspective who suffers the hardships of touring and early symptoms of multiple sclerosis.
6. Lovelace
Did you know that Linda Lovelace (Amanda Seyfried) only saw $1,250 of the millions raked in by Deep Throat, the infamous pornographic movie she starred in? That's just one tidbit that Lovelace shares in this intimate look at the darker side of the so-called sexual revolution.
7. The Iron Lady
Meryl Streep earned her third Academy Award for her performance as Margaret Thatcher, Britain's first female Prime Minister. While showcasing Thatcher's childhood and political career, The Iron Lady also offers a touching portrayal of the elderly Thatcher struggling with dementia and the death of her husband Denis (Jim Broadbent).
8. What's Love Got to Do With It
As musical legend Tina Turner, Angela Bassett simply rocks. Beginning with a memorable opening scene in which a young Tina — then known as Anna Mae Bullock (Rae'Ven Kelly) — is booted from choir practice for singing "too wild," the movie pays tribute to Tina's strengths both onstage and off, as she rises to fame while escaping her abusive husband Ike (Laurence Fishburne).
Check out our list of eight actresses who overcame the curse of child stardom. Maybe one day, they'll have biopics of their own!