Burying the Lead: 7 Sequels That Got Rid of Their Stars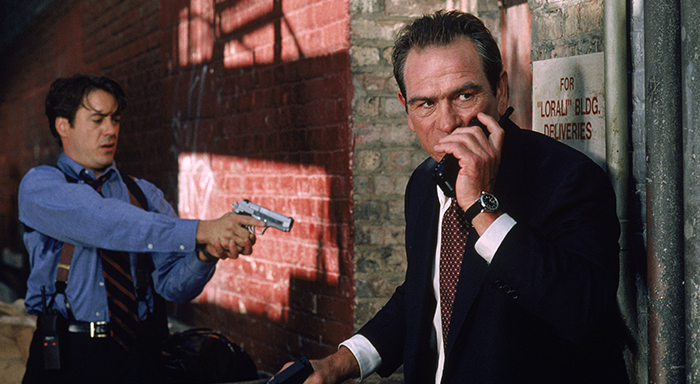 A sequel without a returning star sometimes proves to be a smart move, especially when it delivers a fresh take on old material. Here are seven sequels that recast their stars and lived to tell the tale.
Find out when you can watch Patriot Games and U.S. Marshals on SundanceTV.
1. Hannibal
Replacing The Silence of the Lambs' Jodie Foster in the iconic role of Clarice Starling might seem impossible, but it's tough to complain about Julianne Moore stepping into the FBI agent's shoes for the hit horror sequel. Anthony Hopkins returns as the titular cannibal, while a behind-the-scenes shake-up saw Ridley Scott taking over the franchise's reins from Oscar-winning director Jonathan Demme.
2. Patriot Games
Alec Baldwin originated the role of CIA analyst Jack Ryan for the big screen in The Hunt for Red October, a submarine spy thriller based on Tom Clancy's novel of the same name. Patriot Games catches up with a post-retirement Ryan (seamlessly recast as Harrison Ford) as he finds himself targeted by a violent Irish Republican Army cell after foiling an assassination attempt. Future sequels also featured new blood, with Ben Affleck and Chris Pine taking turns portraying the enduring character.
3. Predator 2
In the wake of Predator's box-office success, Arnold Schwarzenegger backed out of its follow-up over salary disputes. Producers recast Kevin Peter Hall as the titular alien sport hunter and relocated the story from the South American jungle to Los Angeles, where the Predator takes out its bloodlust on warring drug cartels and the LAPD alike.
4. Speed 2: Cruise Control
Keanu Reeves wasn't up for another wild ride, reportedly turning down $12 million to play LAPD officer Jack Traven for this "Die Hard on a boat" sequel. Jason Patric stepped aboard to replace him, which isn't a bad gig when it means romancing a feisty Sandra Bullock.
5. The Godfather Part II
The Godfather is one of the best-known movies of all time, but here's a spoiler alert anyway: The titular Don Vito Corleone (Marlon Brando) doesn't make it to the end. So Part II passes control of his crime family down to youngest son Michael (Al Pacino), while Robert De Niro steps in to portray a young Vito rising to power after arriving at Ellis Island. Brando originally agreed to reprise his role in flashbacks, but that was scrapped after negotiations with the star fell through.
6. The Incredible Hulk
The Incredible Hulk was released as a "loose sequel" to Ang Lee's not-so-well-received Hulk, picking up where the latter movie left off while replacing Eric Bana with Edward Norton in the title role. Jennifer Connelly and Sam Elliott were also cut for new cast members Liv Tyler and William Hurt, respectively, while French director Louis Leterrier buoyed the sequel with a faster pace.
7. U.S. Marshals
Harrison Ford is unforgettable in The Fugitive as wrongfully accused man-on-the-run Richard Kimble, but no performance in the movie looms larger than Tommy Lee Jones' as Deputy U.S. Marshal Samuel Gerard, who relentlessly hunts down Harrison's character while also pursuing the truth on his behalf. With Kimble's story settled, U.S. Marshals catches up with Gerard years later, hunting another fugitive (Wesley Snipes) of a more mysterious nature. Joe Pantoliano, Daniel Roebuck and Tom Wood reprise their Fugitive roles as members of Gerard's team, while Robert Downey Jr. rounds out the cast as a wild card special agent assigned to the case.