Blonde Ambition: Contemporary Roles That Redefine Hollywood Blonde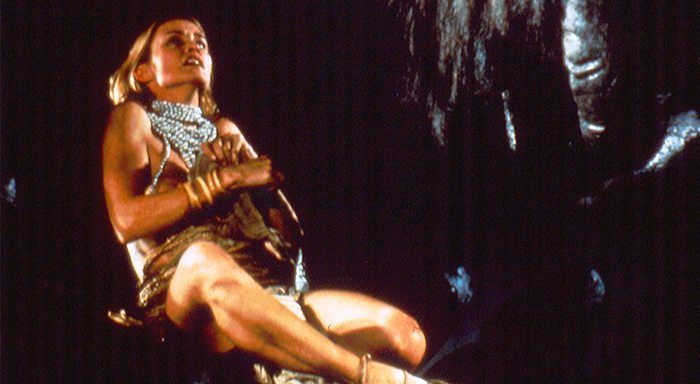 Marilyn Monroe, Mamie Van Doren and Jayne Mansfield may have perfected the "blonde bombshell" persona, but since then, modern Hollywood stars have redefined what it means to be fair-haired and fabulous. Here are some modern female characters who took blondes from ditzy to daring.
1. Catherine Tramell (Sharon Stone), Basic Instinct
Mystery writer Catherine Tramell is the lead suspect in a rock star's mid-sex murder by ice pick. Even though one of Catherine's novels foreshadowed the killing, the lead investigator (Michael Douglas) finds himself falling for her and into her web of lies. The smoking-hot Stone — whose cool Catherine rocks appropriately platinum tresses — shows just how seductive a sociopath can be.
2. Dwan (Jessica Lange), King Kong
The victim of a yacht explosion in the Indian Ocean, Dwan ends up accompanying her rescuers to an undiscovered island where the movie's titular ape resides. She turns out to be the creature's only weakness, and while Dwan's not the brightest bulb, she exudes compassion as she attempts to help her animal admirer. In her movie debut, Lange obliterates all damsel-in-distress caricatures, serving as a turning point in Hollywood-blonde history.
3. Elle Woods (Reese Witherspoon), Legally Blonde
Elle follows ex-boyfriend Warner (Matthew Davis) to Harvard Law School, where her ditzy demeanor sticks out like a bad spray tan. But the bubbly blonde proves she's anything but bubble-headed, winning respect and a murder acquittal while sticking to her Cali-girl style.
4. Pris Stratton (Darryl Hannah), Blade Runner
A stereotypical blonde acts like she was born yesterday, but the half-human, half-robot Pris was actually "born" about three years and nine months before special agent Rick Deckard (Harrison Ford) is tasked with putting her out of commission. And while her creation date as a "basic pleasure model" is February 14, there's nothing lovey-dovey about her demeanor. In fact, she'll kill a man to save herself.
5. Susan Thomas (Madonna), Desperately Seeking Susan
Street-smart demigoddess Susan becomes an object of fascination for Roberta (Rosanna Arquette), a bored suburban housewife who follows Susan's dalliances through the personal ads. After witnessing one of Susan's rendezvous in person, Roberta entwines herself in Susan's crazy life. As a free spirit who cleans her underarms in public bathrooms with aplomb, Madonna creates a character who's equal parts sexy and strong.
6. Tess McGill (Melanie Griffith), Working Girl
In the midst of seducing her boss' boyfriend (Harrison Ford), corporate climber Tess tells him, "I've got a head for business and a bod for sin. Is there anything wrong with that?" No, ma'am! In fact, that blonde noggin proves more than capable of negotiating the cutthroat world of acquisitions and mergers, defying ditzy stereotypes as she claws her way to the top.
7. The Bride (Uma Thurman), Kill Bill: Volume 1 & 2
There are femme fatales, and then there's The Bride. Jilted at the altar and left for dead, she eventually roars back to life as a ruthless warrior hellbent on killing her former teammates on the Deadly Viper Assassination Squad (Michael Madsen, Daryl Hannah, Lucy Liu and Vivica A. Fox). She saves her sweetest revenge for the titular Bill (David Carradine); she also reimagines the male martial-arts hero as a modern symbol of blonde empowerment.
Find out when you can watch King Kong on SundanceTV.