Bizarre Love Triangle: 8 '80s Movies Featuring Sticky Romantic Entanglements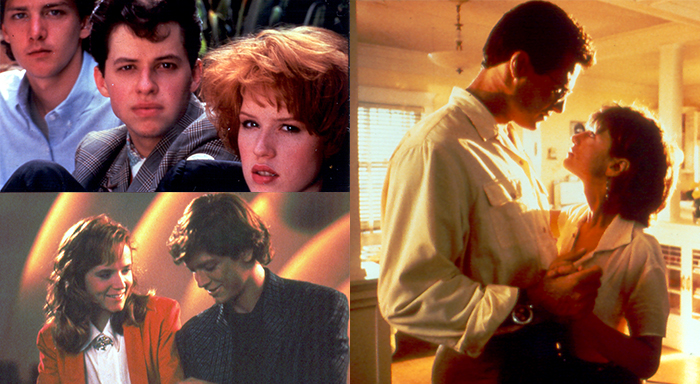 Everything was bigger in the '80s: hairstyles, David Byrne's suit, even romantic complications, as cheating and threesomes ran rampant at the multiplex. Here are eight '80s movies that prove three's a crowd.
1. Always
In Steven Spielberg's remake of A Guy Named Joe, aerial firefighter Pete (Richard Dreyfuss) dies during an accident, but his spirit is sent back to mentor rookie pilot Ted (Brad Johnson). Pete's second chance at life turns eerily heartbreaking when Ted starts falling for Pete's widow Dorina (Holly Hunter).
2. Back to the Future
When Marty McFly (Michael J. Fox) travels back to 1955 to ensure his parents fall in love so he can be born, he doesn't anticipate competing with his father (Crispin Glover) for the affections of his mother (Lea Thompson). Far out!
3. Broadcast News
Aaron (Albert Brooks) schemes to prevent coworker Jane (Holly Hunter), from pursuing fellow colleague Tom (William Hurt). Tom and Aaron couldn't be more different — Aaron is a gifted reporter; Tom is just nice to look at. But Aaron should know better than to mix business with pleasure.
4. Electric Dreams
Miles (Lenny Von Dohlen) falls head over heels for a cellist named Madeline (Virginia Madsen), but faces stiff competition when his personal computer (voiced by Bud Cort) decides to pursue her as well. Going toe-to-toe with your PC over a woman sounds strange, but when the machine one-ups Miles by composing a song fors Madeline, things turn truly bizarre.
5. Kiss Me Goodbye
Kay (Sally Field) can't decide between her soon-to-be fiancé Rupert (Jeff Bridges) or her sorely-missed ex-husband Jolly (James Caan). It's a classic romantic dilemma… Except that Jolly's been dead for years. No wonder she's spooked by the idea of walking down the aisle!
6. Pretty in Pink
Despite having a huge crush on best friend Andie (Molly Ringwald), "Duckie" (Jon Cryer) gamely escorts her to the prom after she's dissed by preppy rich kid Blane (Andrew McCarthy). Duckie may lose out when Blane finally comes to his senses, but his selfless attitude means Duckie will always hold a place in our hearts.
7. Some Kind of Wonderful
In what feels like a gender-swapped version of Pretty in Pink, Some Kind of Wonderful (written by John Hughes) tells of a tomboy teen (Mary Stuart Masterson) who's got a crush on her best friend (Eric Stoltz) who pines for the school's most popular girl (Lea Thompson). Unlike Pretty in Pink, the romantic underdog wins in the end.
8. Something Wild
Hilarity ensues when clean-cut Charlie (Jeff Daniels) meets free-spirited Audrey (Melanie Griffith) on a weekend getaway. At a high-school reunion, they run into her ex-husband Ray (Ray Liotta), a violent ex-con who's got unfinished business with Audrey.
Still missing the '80s? Check out our list of 10 mean girls from the '80s.