Going Brogue: 10 Terrific Irish Movie Actors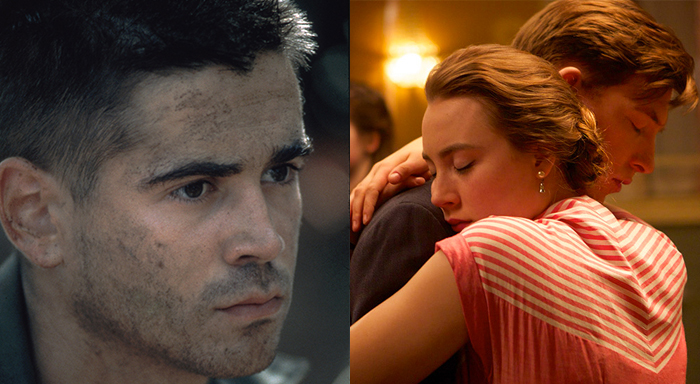 Back in the day, showbiz stars like James Cagney, Maureen O'Sullivan and Pat O'Brien were cheekily referred to as Hollywood's "Irish Mafia." Nowadays, Irish-born actors and actresses are everywhere, from Fifty Shades of Grey's whip-wielding Jamie Dornan to Dumbledore's alter ego Richard Harris. With SundanceTV's upcoming series REBELLION ready to introduce you to a whole new slate of Irish talent you're sure to love, here are 10 favorites from the recent past.
1. Brendan Gleeson
The versatile, Dublin-born Gleeson took home an Emmy for playing Winston Churchill in HBO's Into the Storm, but he's better known for his movie roles. Credits include Gangs of New York and Lake Placid, but we know him best as Harry Potter's eccentric mentor Mad-Eye Moody. Fun fact: Gleeson's son Domhnall plays Ron Weasley in the Potter franchise and General Hux in Star Wars: The Force Awakens.
2. Colin Farrell
With his dark eyes and dark hair, this Dubliner is what they call "Black Irish." He got his start on TV shows back home, including the BBC-to-PBS crossover hit Ballykissangel, but soon made a name for himself stateside in movies like Tigerland, Daredevil, Horrible Bosses and In Bruges, which earned him a Golden Globe.
3. Evanna Lynch
Born in the village of Termonfeckin (say that five times fast!), Lynch won the role of Luna Lovegood in the Harry Potter franchise when she was just 14 and has appeared in four Harry Potter movies, charming moviegoers with her ethereal looks and soothing voice.
4. Fiona Shaw
Yet another Harry Potter alum, Shaw was born in County Cork and has won two Olivier Awards for her work onstage. She made a splash in TV's True Blood as a seemingly sweet Wiccan whose dark side is very dark indeed. She was also unforgettable in The Black Dahlia.
5. Jonathan Rhys Meyers
Born in Dublin, Meyers' litany of historic portrayals include the title role in the miniseries Elvis, King Henry VIII in The Tudors and a Bowie-esque glam rocker in Velvet Goldmine.
6. Liam Neeson
Northern Ireland's Neeson worked his way up through supporting parts and leads in smaller movies before earning an Oscar nomination for Spielberg's Schindler's List. He now plays heavies like Batman Begins' Ra's al Ghuland and heroes like a Jedi master in Star Wars: Episode I–The Phantom Menace. He's also loaned his distinctive voice to animated movies, docs and video games.
7. Peter O'Toole
Trained at the Royal Academy of Dramatic Arts, O'Toole rocketed to stardom in the epic Lawrence of Arabia. The County Galway native, renowned for his puckish charm, was nominated for eight Oscars over the course of his 50-plus-year career, receiving an honorary Oscar in 2002.
8. Pierce Brosnan
The onetime James Bond was born in County Louth (though largely raised in England) and first charmed TV audiences as the male lead in Remington Steele. His post-007 career has included thrillers and dramas such as The Ghost Writer and No Escape, interspersed with comedies like I Don't Know How She Does It.
9. Saoirse Ronan
Sure the star of Brooklyn was born in the Bronx but her Irish parents returned to the homeland when she was a toddler and she was raised in County Carlow. Launching her acting career at the age of 10, she's already racked up two Oscar nominations, for Brooklyn and Atonement, along with a reputation for effortlessly playing characters as varied as a murdered child (The Lovely Bones) and an eccentric pastry chef (The Grand Budapest Hotel).
10. Stephen Rea
Rea was born in Belfast and trained at the Abbey Theater School in Dublin. He earned an Academy Award nomination for Best Actor in The Crying Game and continued on to appear in movies like V for Vendetta, Michael Collins and Interview with the Vampire. His TV credits include The Shadow Line and SundanceTV's THE HONOURABLE WOMAN.
The special three-night miniseries event REBELLION premieres Sun., Apr. 24 at 8/7c.