Love, Laugh and Run: 5 of the Best Action Romantic Comedy Movies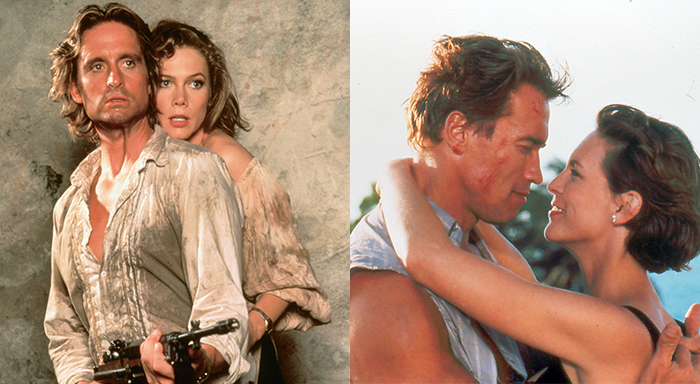 It's rare that a movie combines three of the top genres into one, and rarer still that it actually works, but these 5 managed to pull it off splendidly.
1. Romancing the Stone
The definitive action-adventure romantic comedy, Romancing the Stone follows romance novelist Joan (Kathleen Turner) on her adventure through Colombia to rescue her sister (Mary Ellen Trainor), who has been kidnapped by antiquities smugglers (Zack Norman and Danny DeVito) who want a treasure map in Joan's posession as ransom. On her quest, she meets an exotic bird smuggler named Jack (Michael Douglas), who suggests they follow the map themselves. After some pitfalls (and, literally, a waterfall), the two manage to find the treasure and rescue Joan's sister before planning to live out the rest of their lives together sailing around the world.
2. Scott Pilgrim vs. the World
Scott Pilgrim, based on the graphic novels by Bryan Lee O'Malley, features Michael Cera as the title character who must battle his girlfriend Ramona's (Mary Elizabeth Winstead ) seven evil exes, who are trying to kill him. When Scott first meets Ramona, however, he simultaneously goes out with her and the girl he was already dating, Knives (Ellen Wong). Before Scott can fight the final ex, Knives and Ramona fight over Scott. Scott ends up apologizing to them both, defeating the seventh ex, Gideon (Jason Schwartzman) with Knives' help and ultimately chooses to follows the leaving Ramona. Talk about a rough relationship.
3. True Lies
Arnold Schwarzenegger and Jamie Lee Curtis are a match made in action-romance-comedy heaven in this James Cameron movie. They play Harry and Helen Tasker, a married couple with a daughter, Dana (Eliza Dushku) going through a rough patch due to Harry's constant absence from the family. While Helen and Dana believe this is due to the traveling Harry has to do as a computer salesman, it is actually due to the fact that Harry is a member of a government counter-terrorism task force constantly on missions. Of course, when Harry tries to reveal this to Helen as a surprise, it all goes terribly wrong when they are kidnapped by a terrorist group. It's rough times, but what a way to reignite the spark in a marriage!
4. True Romance
Quentin Tarantino wrote this dark comedy about the aftermath of a man (Christian Slater) killing his new wife's (Patricia Arquette) pimp (at the behest of an Elvis Preseley apparition played by Val Kilmer, naturally) and accidentally stealing a large amount of cocaine. We follow Clarence and Alabama to L.A., where they are hounded by people that want their drugs (Bronson Pinchot, Saul Rubinek, James Gandolfini and Christopher Walken).
5. The Princess Bride
Endlessly quotable, Rob Reiner's The Princess Bride tells the story within a story of farmhand Westley (Cary Elwes) and his quest to rescue his true love, Buttercup (Robin Wright). This could have been a very serious movie if the villain, Prince Humperdinck (Chris Sarandon) and enemies-turned-friends Inigo Montoya (Mandy Patinkin), Fezzik (André the Giant) and Vizzini (Wallace Shawn) weren't so "inconceivable"-ly hilarious (forgive us).
For more action combined with humor and romance, watch HAP AND LEONARD, premiering Wed., Mar. 2 at 10/9c.