Does He Amuse You? Joe Pesci's 6 Greatest Mobster Roles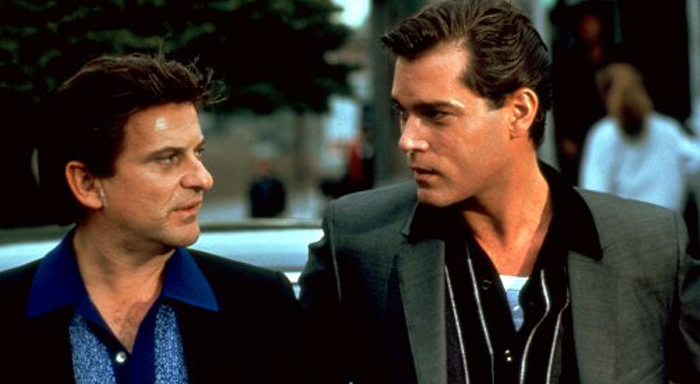 Nobody in Hollywood knows how to put a hit on a guy like Joe Pesci, who's played mobsters and other baddies to the hilt in a number of hit movies. In honor of the Oscar-winner's birthday, here's a look at some of his most unforgettable mobster roles. From Nicholas Santoro to Tommy DeVito, these Pesci characters really make you afraid of getting whacked.
1. Tommy Spinelli, 8 Heads in a Duffel Bag
Though it is a comedy, let's not forget that this movie's whole plot focuses on Pesci's Tommy Spinelli transporting severed noggins cross-country to a crime boss as proof of death. (Actually, maybe the fact that Tommy treats the whole ordeal so lightly is what makes him even more of a sociopath than Pesci's usual toughs.) Creepy stuff aside, the movie follows Tommy's hilarious exploits trying to recover his heads after his titular duffel bag gets mixed up with another passenger's aboard a plane.
2. Carmine, A Bronx Tale
Pesci only makes a brief appearance in Robert De Niro's directorial debut, but the few lines he does utter sure do resonate. While visiting a funeral home to pay respects to his assassinated friend Sonny (Chazz Palminteri), Carmine informs the deceased's protege Calogero (Lillo Brancato, Jr.) that although he's been away, he'll be in the neighborhood "taking care of things" now. Cringe.
3. Nicholas "Nicky" Santoro, Casino
Based on real-life mobster Anthony Spilotro, Pesci's character here heads to Vegas to keep other capos in line and protect Sam "Ace" Rothstein (Robert De Niro) during his illicit deeds at the Tangiers Casino. When Nicky's violence-is-the-answer attitude earn him a spot in the "black book" (a list of no-goods banned from a casino), it just fuels his ambition to form his own crew and turn himself into the unrivaled boss of Vegas.
4. Tommy DeVito, Goodfellas
Pesci won a Best Supporting Actor Oscar for his performance as lunatic gangster Tommy DeVito in Martin Scorsese's classic Mafia drama. A moment after delivering his infamous "Funny how?" and "Do I amuse you?" lines in an exchange with Henry Hill (Ray Liotta), Tommy cracks a bottle upside a waiter's head for daring to remind him he owes $7,000. We're guessing he didn't leave a tip.
5. Harry Lime, Home Alone
Okay, so Pesci's small-time crook in this smash-hit comedy isn't a member of the Mob — but his Christmastime thieving spree through an upscale Chicago suburb definitely counts as organized crime. And if we were 8-year-old Kevin McAllister (Macaulay Culkin), we'd be scared right out of our pajamas at the sight of him trying to break into our house, too. Ya filthy animal!
6. Frankie Manoldi, Once Upon a Time in America
Sergio Leone's flick, based on Harry Grey's novel The Hood, follows a gang of ghetto youths as they rise to the top of organized crime. Pesci's Frank and his partner Joe (Burt Young) team up during a diamond heist, only for Frankie to have Joe immediately assassinated in order to eliminate the competition. Ain't nothing scarier than a gangster who'll turn on you at the drop of a dime.
Now check out our picks for the 10 most gruesome moments in mob movies.