Golden Boy: Steven Soderbergh's Award-Winning Movies and TV Shows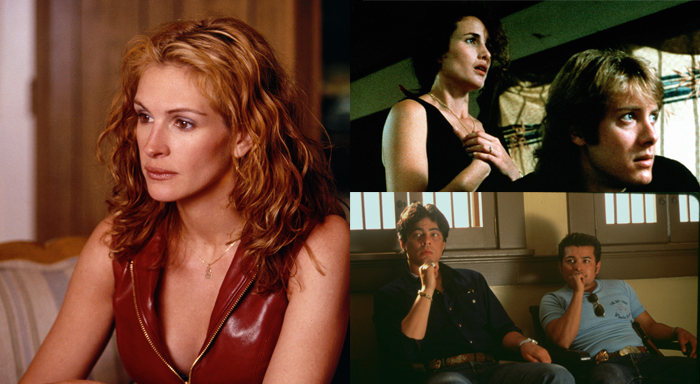 Steven Soderbergh has proven himself as a writer, director and producer and picked up a number of awards along the way. Here are seven of Soderbergh's finest, each of which has earned his work (and those affiliated with it) recognition at the Oscars, the Globes, the Emmys, and Sundance to start.
1. Behind the Candelabra
Awards: 2 Golden Globes, 11 Emmys, 1 SAG Award, 1 Directors Guild Award
To call Soderbergh's bold telling of Liberace's life entertaining—what with Michael Douglas playing the flamboyant superstar and Matt Damon portraying his cheeky boy toy—would be an understatement. After premiering at the Cannes Film Festival, this lauded TV biopic earned Emmys for Douglas and Soderbergh, as well as one for Outstanding Miniseries or Movie.
2. Erin Brockovich
Awards: 1 Oscar, 1 Golden Globe, 2 SAG Awards
Soderbergh's biopic about the real-life environmental activist who successfully sued Pacific Gas and Electric over contaminated water earned Julia Roberts a Best Actress Oscar. Meanwhile, Soderbergh lost out on an Oscar for Best Director… to himself! He wound up winning the trophy for his other 2000 feature film, Traffic; in the process, he became the first-ever director to score double nods in the same year from the Academy Awards, the Golden Globes and the Directors Guild of America.
3. Sex, Lies, and Videotape
Awards: 3 Cannes Film Festival Awards, 4 Independent Spirit Awards, 1 Sundance Film Festival Award
At the age of 26, Soderbergh became the youngest director to ever win the Palme d'Or at the Cannes Film Festival with this racy movie about an impotent man (James Spader) with a penchant for videotaping women as they talk about sex. The groundbreaking indie also won the Audience Award when it premiered at the 1989 Sundance Film Festival and ultimately earned Soderbergh an Oscar nomination for Best Original Screenplay.
4. The Knick
Awards: 1 Emmy
Soderbergh directed every episode in the first two seasons of this period drama about trailblazing surgeon (and secret cocaine addict) John Thackery (Clive Owen), who works in a fictionalized version of New York's erstwhile Knickerbocker Hospital at the start of the 20th century. The Knick won an Emmy for its production design; for its "modern style and substance" and "innovative camera work," it also earned a Peabody Award in 2014.
5. Traffic
Awards: 4 Oscars, 2 Golden Globes, 2 SAG Awards, 1 Writers Guild Award
Soderbergh brought together an ensemble of A-list talent—including Benicio Del Toro, Michael Douglas, Catherine Zeta-Jones and Don Cheadle—to explore the complicated entanglements behind America's so-called war on drugs in this sprawling epic. Picking up trophies for Best Film Editing, Best Original Screenplay and Best Supporting Actor (for Del Toro), as well as Soderbergh's first Oscar for directing, Traffic has become his most Oscar-winning work to date.
Find out when you can watch Stephen Soderbergh movies on SundanceTV.