How Crude! 9 Funniest R-Rated Comedies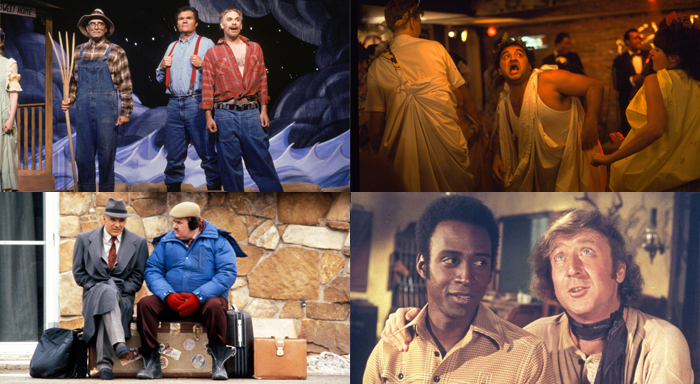 Adult humor has always been a risky proposition at the box office, which is just one reason why a great R-rated comedy qualifies as a minor miracle. So consider these 10 hilarious raunch-fests not just part of the Hollywood canon, but also worthy of cinematic sainthood.
1. Animal House
One of the most profitable movies ever made, Animal House set a new standard for successful gross-out comedies. John Belushi is at his most iconic as Bluto, a super-duper-senior slacker who leads the lowest-achieving fraternity on a 1960s college campus. Animal House's wild success inspired countless knockoff flicks about hard-partying college slobs taking on their fun-hating deans and snobby rivals, proving that—contrary to the admonishment of Dean Wormer (John Vernon)—fat, drunk and stupid is indeed a great way to go through life (at least at the movies).
2. Blazing Saddles
This 1974 satire, about a black sheriff (Cleavon Little) policing an all-white frontier town, delivered an unapologetic blow to the decades of racist, whitewashed Westerns that came before it. The brainchild of Mel Brooks and Richard Pryor, Blazing Saddles' most controversial elements—like its constant use of racially charged profanity—have only improved with time. Politics aside, it's still as side-splitting as ever. "It's twue, it's twue, it's twue!"
3. Borat
Sacha Baron Cohen's finest work, this mockumentary about a fictitious Kazakh journalist who's routinely befuddled by Western culture is an innovative, often brilliant piece of borderline-performance art and an equal-opportunity offender. As the movie's titular foreign tourist, Cohen manages to turn every red-blooded American he encounters into a wellspring of pure comedy. Very nice!
4. Bridesmaids
As both the star and co-writer of this unapologetically off-color laugh-fest, Kristen Wiig taps into the insecurities every thirtysomething single woman feels when her bestie gets married. As Wiig's alter-ego Annie tries to be a good maid of honor for BFF Lillian (Maya Rudolph), a dream-team ensemble cast—including Rose Byrne as her too-perfect frenemy and Melissa McCarthy in an Oscar-nominated supporting role—keep the action moving at a breathlessly absurd pace.
5. Planes, Trains and Automobiles
High-strung ad exec Neal Page (Steve Martin) can barely tolerate too-friendly traveling salesman Del Griffith (John Candy). When bad luck and Del's bumbling antics force the two to work together to make it home for the holidays, the results will have you fa-la-la-laughing all the way to the end. Planes marked writer-director John Hughes' first foray outside the world of teenage love and angst, and while it's his most purely funny movie, it doesn't sacrifice an ounce of his trademark sentimentality.
6. South Park: Bigger, Longer & Uncut
What made this big-screen adaptation not only one of the funniest movies ever, but the highest-grossing R-rated cartoon of all time? Blame Canada! The Great White North becomes America's mortal enemy in South Park thanks to Terrance and Phillip: Asses of Fire, the Canadian-made, curse-filled movie-within-a-movie that, not coincidentally, courts controversy to secure its R rating.
7. Superbad
Two geeky teens (Michael Cera and Jonah Hill) nearing the end of their high-school careers try to score some alcohol for a party hosted by comely co-ed Jules (Emma Stone). What could possibly go wrong? Superbad writers Seth Rogen (who also stars as a cop) and Evan Goldberg famously started working on its semi-autobiographical script before they even got through adolescence, finishing the movie's first draft when they were only 15 years old.
8. Waiting for Guffman
Christopher Guest's most famous mockumentary may be This Is Spinal Tap, which he co-wrote and starred in, but Guffman is quite possibly the improv master's funniest. Here, he stars as a community-theater director who recruits a bunch of amateur actors (played by Parker Posey, Eugene Levy and Catherine O'Hara) to put on a musical celebrating the 150th anniversary of a small Missouri town.
9. Wet Hot American Summer
It's the last day of the summer at Camp Firewood, where the counselors (Bradley Cooper, Amy Poehler, Paul Rudd, Elizabeth Banks, and Janeane Garofalo) behave as sophomorically as their young charges. Set in 1981, Wet Hot American Summer is as funny for its bad fashion and terrible hairstyles (feathered bangs! layered polo shirts!) as it is for its nutty take on '80s-era sex comedies like Meatballs and Porky's.