5 Civil Rights Movies for MLK Day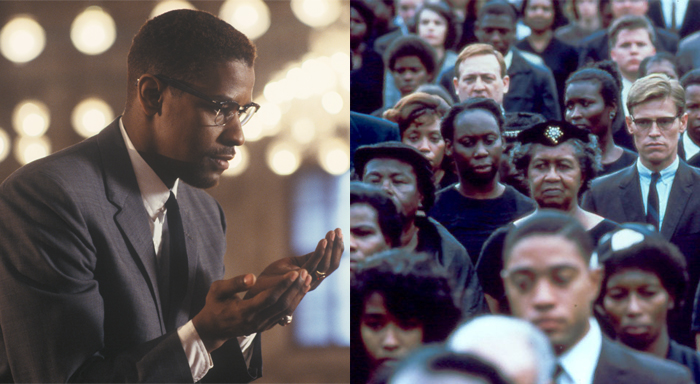 In honor of Martin Luther King Jr., we recall five exemplary movies about the civil rights movement from Spike Lee's stirring documentary to Ava DuVernay's instant classic.
1. 4 Little Girls
Directed by Spike Lee, this documentary details the 1963 murder of four African-American girls in the bombing of Birmingham, Alabama's 16th Street Baptist Church. The movie was originally scheduled to premiere on HBO but, after seeing the final product, the production team decided it was important to release it in theaters—a smart move, as it went on to receive an Academy Award nomination for Best Documentary.
2. Malcolm X
Denzel Washington stars in this Spike Lee biopic based largely on Alex Haley's 1965 book, The Autobiography of Malcolm X. The movie looks at the activist's life in three parts: His troubled childhood, his life in prison (where he was introduced to Islam) and his religious conversion as a disciple of Elijah Muhammad. X's widow, Dr. Betty Shabazz, served as a consultant, while Nelson Mandela, Rev. Al Sharpton and Black Panther Party co-founder Bobby Seale make cameo appearances. In 2010, the movie was selected for preservation in the United States National Film Registry by the Library of Congress as being "culturally, historically, or aesthetically significant."
3. Mississippi Burning
Loosely based on the 1964 murders of three civil rights workers purportedly killed for registering minority voters, this movie follows two FBI agents, Rupert Anderson (Gene Hackman) and Alan Ward (Willem Dafoe), as they take on the KKK to investigate the crime. The movie won the Oscar for Best Cinematography.
4. Selma
Ava DuVernay directed this critically acclaimed drama about the 1965 Selma-to-Montgomery voting rights marches led by James Bevel (Common), Hosea Williams (Wendell Pierce), Martin Luther King, Jr. (David Oyelowo) and John Lewis (Stephan James). Common also worked with John Legend on the movie's acclaimed track "Glory," which won the Oscar for Best Original Song.
5. The Rosa Parks Story
In this TV movie, Angela Bassett portrays the famous activist, whose arrest after refusing to give up her seat on a bus started the Montgomery bus boycott that lasted 381 days. Basset won Outstanding Actress in a Television Movie, Mini-Series or Dramatic Special at the the NAACP Image Awards for her work, while the movie won Best Television Movie.
Jesse Jackson speaks about his time as a civil rights activist in this clip from SundanceTV's DREAM SCHOOL.