Dinner and a Movie: 10 Pairings if You're Snowed in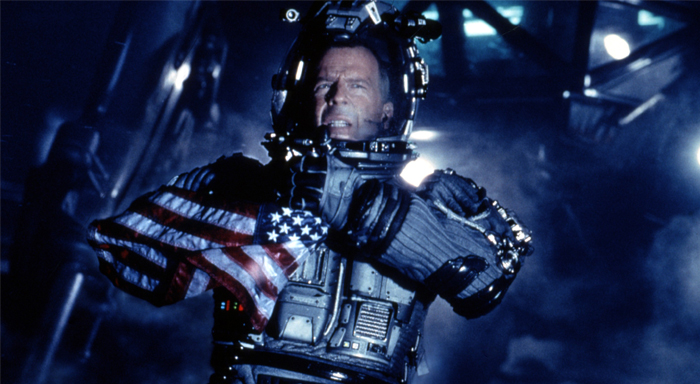 There's nothing quite as relaxing as vegging out with a mix of entertainment and sustenance. Here are 10 ideas of what to eat while you lose yourself in a movie.
1. Annie Hall with Lobster
Might we suggest asking the apple of your eye to help you cook it? It could make for a fun time, and the end result is absolutely delicious.
2. Armageddon with Cereal and Berries
We're not going to suggest you fully deprive yourself and only eat freeze-dried food like an astronaut (yet), but the freeze-dried berries that you can add to your boxed cereal (your choice!) will add a delicious touch.
3. Edward Scissorhands with Chopped Salad
This is our healthiest, punniest suggestion on this list, and we will not apologize for it.
4. Fargo with Beer Raised Bratwurst
We would suggest cracking open a Schlitz or five, and just feel the Midwest take over your body. But don't even mention stopping at the pancakes house because, "What are you nuts? We had pancakes for breakfast."
5. Manhattan and Pastrami on Rye
It's a beautiful love story told by an eccentric, Jewish New Yorker. What else would you eat? If you're going for hipster authenticity, pair with a Dr. Brown's celery soda and half-sour pickles.
6. Star Wars with Freeze-Dried Ice Cream
Apparently astronauts don't necessarily eat this (you can take regular ice cream to space), so perhaps all of our childhoods were shams. Next we'll find out that Santa Claus does exist. "Bring me Solo…and two scoops."
7. The Artist with Fried Chicken
Silent movie, loud food, you do the math. To note, this could be a poor choice if you're one of those "hate hearing people eat" type of human beings.
8. The Brothers Bloom with Vegetarian Chili
A fantastic movie about some of the fantastic-est con men is a fitting occasion to con your body into thinking you're feeding it delicious, nourishing meat.
9. The Godfather with 14 Cannoli
Cannoli are delicious, and if Pavlov taught us anything, it's that the mention, in passing, of cannoli, make you crave cannoli. "Leave the gun. Take the cannoli."
10. The Science of Sleep with Turkey
This one is obvious. We at least abstained from a red wine mention (although it would be a lovely idea, a Pinot Noir would pair nicely). "I'm exhausted. I'm gonna wake up now."
Check out the short "Next Floor" (below) about a luxurious banquet in which 11 pampered guests participate in ritualistic gastronomic carnage.
Watch more shorts on SundanceTV.