Before "HAP AND LEONARD": Top 5 James Purefoy Movies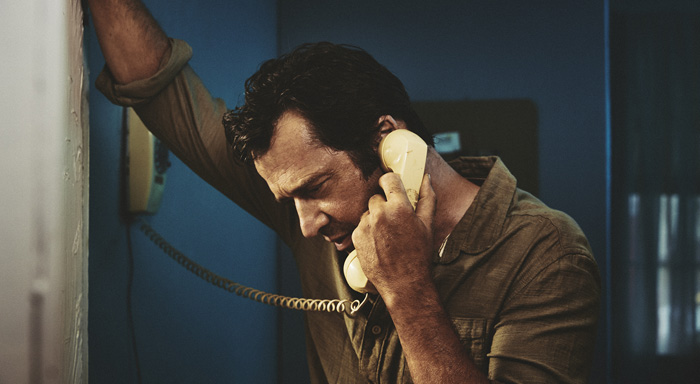 Though his HAP AND LEONARD character Hap Collins is a blue-collar, 20th-century American, James Purefoy is the quintessential British leading man, once training with the Royal Shakespeare Company and even screen-testing for James Bond (damn you, Brosnan!). In fact, Purefoy's performed in a surprisingly high number of English-set period dramas. Here are the best (which doesn't even factor in his memorable work in The Following and Rome):
1. A Knight's Tale
This hilarious, dramatic, anachronistic classic is packed with memorable characters, from Heath Ledger's phony knight to Shannyn Sossamon's over-it-all noblewoman to Paul Bettany as a frequently nude Geoffrey Chaucer. Purefoy takes on the film's other historical figure: Edward, the Black Prince, popular among his countrymen for his military daring and his chivalrous nature. Purefoy captures both halves of Edward's reputation in an unforgettable sequence that finds the royal attempting to joust under a pseudonym; when his cover's blown, he grows ever more frustrated at his opponents for letting him win.
2. Bedrooms and Hallways
In a breakout movie role, Purefoy stars as a straight Irishman who explores his sexuality after a new friendship with openly gay Leo (Kevin McKidd) escalates into something more than bromance. Far ahead of its time—and the current times, really—the 1998 cult hit presents a nuanced, non-traditional view of sexual fluidity. As characters push their boundaries and experiment, the hunky but sensitive Purefoy remains at the heart of the romantic whirlwind.
3. Mansfield Park
This romance takes an unconventional approach to adapting Jane Austen's 1814 novel, weaving elements of the author's actual life into its plot. Purefoy's character, wealthy Tom Bertram, is the movie's moral heart. He grows disgusted with his family business after observing plantation life up close. Later, when he falls deathly ill, he reveals the true colors of the scheming lovers that surround him, raising the prospect of his substantial inheritance going to next-brother-in-line, Edmund (Jonny Lee Miller).
4. Solomon Kane
This production was supposed to be the first of an epic high-fantasy trilogy, and it's worth a watch for fans of historical action and fantasy. Purefoy stars as the titular English mercenary, who battles Ottoman soldiers, demons, evil sorcerers and eventually his own family (including estranged father Max Von Sydow). The larger-than-life hero was based on a character from Robert E. Howard's pulp novels dating back to 1928.
5. Vanity Fair
One more costume drama-literary adaptation. William Makepeace Thackeray's satirical novel follows governess Becky Sharp (Reese Witherspoon) and her entanglements with various members of early-19th-century London's upper crust. Purefoy plays the dashing soldier and gambling addict Rawdon Crawley, the love of Becky's often unlucky life.