By George! 7 Times Clooney Played Against Type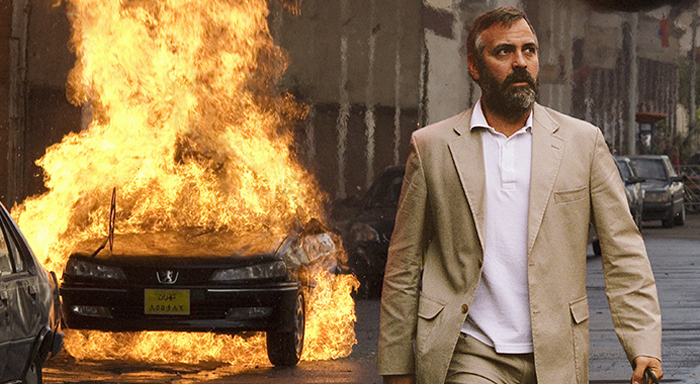 Perhaps no Hollywood star embodies leading-man status like George Clooney, who oozes suave self-confidence whether he's playing soldiers (Three Kings, The Peacemaker, The Thin Red Line), swindlers (Out of Sight, Ocean's Eleven), superheroes (the better-off-forgotten Batman & Robin) or even an astronaut (Gravity). But occasionally, Clooney shrugs off his debonair airs and delivers a transformative performance that truly breaks his own mold. Here are seven movies in which Clooney plays a character who's distinctly anti-Clooney.
1. Burn After Reading
As Harry Pfarrer, a U.S. Marshal carrying on simultaneous affairs with a dimwitted gym employee (Frances McDormand) and a former CIA analyst's wife (Tilda Swinton), Clooney crosses the line from ladies' man to all-out cad. Perhaps that's why, unlike most of Clooney's characters, Harry definitely doesn't win in the end of this Coen Brothers-directed black comedy.
2. From Dusk Till Dawn
When you think psychopathic, hot-tempered protagonist in a horror-comedy cult fave, you don't really think George Clooney. But he actually delivers a spot-on performance as Seth Gecko, who must outwit the feds and some unexpected vampires as a bank robber on the lam.
3. Good Night, and Good Luck.
Clooney plays against type in front of and behind the camera for this biopic about TV journalist Edward R. Murrow. The movie marked Clooney's second directorial effort and his first screenwriting credit, ultimately earning him Oscar nominations for Best Director and Best Original Screenplay. He also cast himself in the role of Fred Friendly, Murrow's bookish, bespectacled producer.
4. O Brother, Where Art Thou?
Cross Clark Gable with a hillbilly and you get Clooney's oddball portrayal of Ulysses Everett McGill, an escaped prisoner who tries to win back his wife (Holly Hunter) with the help of fellow convicts Pete (John Turturro) and Delmar (Tim Blake Nelson). Clooney's roguish rapscallion may fancy himself smarter than his fellow escapees, but as often happens when the actor appears in a Coen Brothers movie, his character's not as sophisticated as he looks.
5. South Park: Bigger, Longer and Uncut
Oh my God, Clooney killed Kenny! After achieving super-stardom as skilled and compassionate pediatrician Doug Ross on ER, Clooney accidentally replaces Kenny's heart with a baked potato while voicing the role of Dr. Gouache in this big-screen animated hit. You bastard!
6. Syriana
Gaining a reported 30 pounds (and a beard!) to play veteran CIA operative Bob Barnes helped Clooney subvert his silver-fox aura in this multilinear thriller about the oil industry's geopolitical influence. Like many actors who gain or lose weight for roles, Clooney was rewarded with an Oscar for Best Supporting Actor.
7. The Descendants
George Clooney… family man? The actor shows off his paternal instincts in Alexander Payne's dramedy about a lawyer named Matt King whose wife (Patricia Hastie) falls into a coma after a boating accident. The tragedy leads Matt to discover that she was planning on leaving him for a real estate agent (Matthew Lillard), but the biggest hardships Matt faces come in the form of his temperamental daughters (Shailene Woodley and Amara Miller).