10 Stylish Screen Sirens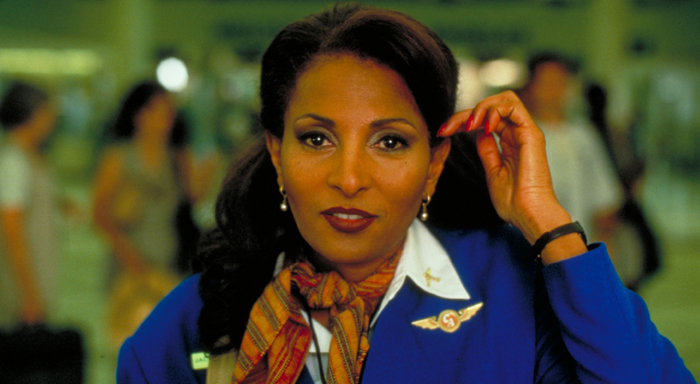 We always admire a strong female character, but sometimes it's not just the personality of that character that's inspiring—it's the wardrobe, too. Here's our list of 10 of the most fashionable characters in movies.
1. Babarella (Jane Fonda), Barbarella
The bikinis and the wigs were just too much. Fonda's sexy camp hero embodied everything right, and wrong, about '60s fashion.
2. Dorothy (Judy Garland), The Wizard of Oz
She didn't need guns and bombs to save the day—just a smart gingham dress and a perfect pair of ruby-red slippers. When you think of Garland, you don't just think of that beautiful voice, but of this outfit.
3. Gloria (Gena Rowlands), Gloria
In poly blouses and pantsuits, Rowlands kicked ass as a gangster's girlfriend. Her '70s waved out hair is also ridiculously enviable.
4. Jackie (Pam Grier), Jackie Brown
Grier paid homage to her own '70s fashion icon self in this Tarantino movie. Could anyone else make that bright blue flight attendant's suit look as fly?
5. Leeloo (Milla Jovovich), The Fifth Element
With fire-orange hair and Gaultier costumes, Jovovich saved Bruce Willis's life. She also was the star of the smartest and best-looking action flick ever made.
6. Leia (Carrie Fisher), Star Wars
Wearing a white cloak and buns made of braids on the sides of her head, Fisher was a fashion force. It's a hard look to pull off, but she worked it.
7. Lisbeth (Noomi Rapace), The Girl with the Dragon Tattoo
Rapace stuns in the Swedish version of this movie series. Punk, sexy and brooding, Lisbeth is an iconic character with an iconic look.
8. Mame (Rosalind Russell), Auntie Mame
She may not have been a classic movie hero, but Russell's Auntie Mame was the campiest and most overdressed character ever to make the silver screen. The extreme costuming is the epitome of the "be yourself" type of wardrobe.
9. Nikita (Anne Parillaud), La Femme Nikita
Nikita is a vamp, an assassin and a muse, too. Partilaud's wardrobe in this French-Italian thriller is simple and chic, and it's topped off with the kind of short haircut that only a total badass could pull off.
10. Ripley (Sigourney Weaver), Alien
Weaver was the original badass. In tank top and tight pants, Weaver brought fashion-model looks, and height, to the action-movie world.

Check out the clip (below) about the inventor of the bikini from SundanceTV's LOVE LUST.