Yeah, Humbugs! The 10 Best Movie & TV Scrooges, Ranked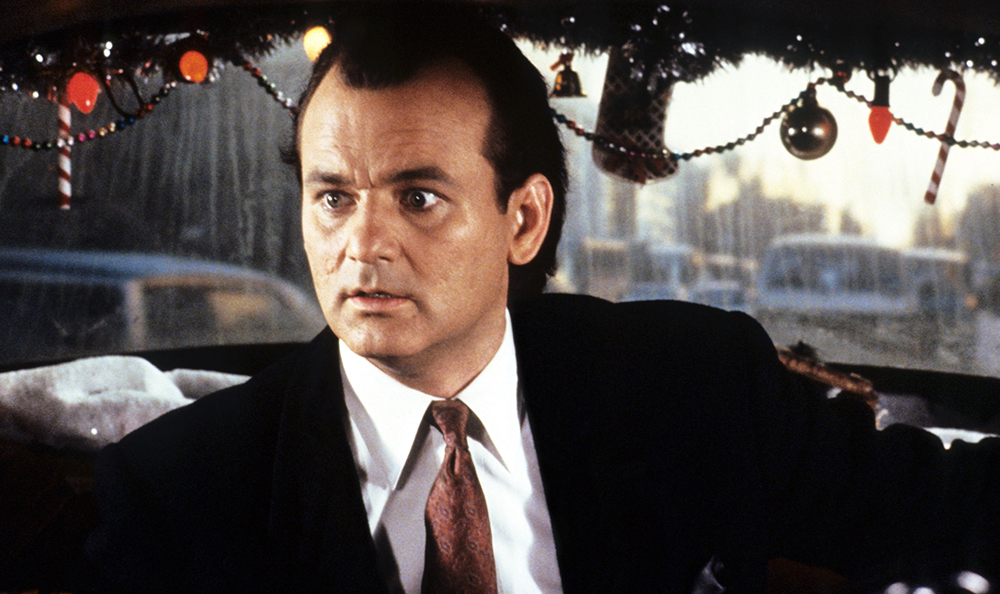 Come Christmastime, there's a little bit of Ebenezer Scrooge in all of us. As the main character of Charles Dickens' 1843 novella A Christmas Carol, Scrooge can be interpreted as a modern-day holiday underdog; as we grow ever more stressed from gift giving and family visits, it's hard not to feel that he's right to rail against what he identifies as the faux-Christmas spirit. But of the countless versions of Dickens' character, who stands head and shoulders above the rest? Here are our picks for the 10 best Ebeneezer Scrooges in film and TV.
1. Frank Cross (Bill Murray), Scrooged
Think of Bill Murray's take on Scrooge as Dickens by way of Wall Street's Gordon Gekko. As network executive Frank Cross, Murray exudes '80s-era materialism alongside his trademark sardonic flair. With memorable turns from Carol Kane, Bobcat Goldthwait and Buster Poindexter—as well as three of Murray's real-life brothers—Scrooged is a hilariously cynical take on both classic literature and Reagan-era excess.
2. Ebenezer Scrooge (Alastair Sim), A Christmas Carol
British actor Alastair Sim gives one of our favorite Ebenezer performances in this 1951 classic, released simply as Scrooge in Great Britain. Standing alongside It's a Wonderful Life and A Charlie Brown Christmas as a Yuletide mainstay, this feature film defines the Dickens' character.
3. Scrooge (Michael Caine), The Muppet Christmas Carol
Only an esteemed thespian like Michael Caine could instill such gravitas into Dickens' classic character while acting opposite troves of anthropomorphic felt. Luckily, Caine brings his acting A-game no matter who he plays or what fuzzy, googly-eyed Muppets he must stare down as Scrooge. Not only does he provide the perfect counterweight to the Muppets' cavalcade of heartwarming silliness, but he also sings to the hilt.
4. Ebenezer Scrooge (Reginald Owen), A Christmas Carol
This 1938 version of oft-reinvented A Christmas Carol quickly become the standard. In part due to a stellar cast, including Reginald Owen playing the crotchety crank himself. Gene and Kathleen Lockhart also turn in great performances as Bob and Mrs. Cratchit and Leo G. Carroll is excellent as the ghost of Jacob Marley.
5. Alex P. Keaton (Michael J. Fox), Family Ties
Few Scrooge iterations are considered as universally lovable as the one from a 1983 episode of Family Ties. As the only Ebenezer with a photo of Nixon on his bedside table, Michael J. Fox's conservative alter ego Alex P. Keaton regards the holiday tale as "a silly sentimental farce," but is visited by his ghostly siblings to prove that, yes, he once loved Christmas. In the end, the diminutive neocon bestows gifts to members of his family and secures the episode's status as one of the best Christmas sitcom specials.
6. Ebenezer Scrooge (George C. Scott), A Christmas Carol
Another Strangelove alum—George C. Scott—takes on Dickens' old coot in this 1984 TV movie, portraying the frail Victorian ingrate while still exuding the gravitas of his Oscar-winning General Patton performance. Nastier, more stubborn, and with a hefty disdain toward the world, this Scrooge verges on sociopathic. Scott nabbed an Emmy nomination for Outstanding Lead Actor in a Miniseries or a Movie for his work here.
7. Oscar the Grouch (Caroll Spinney), A Special Sesame Street Christmas
Christmastime or not, dustbin-dwelling Muppet Oscar the Grouch is basically Ebenezer with fewer ducats, but just as unfeeling, uncaring, and unloved. When visited in this 1978 TV special by three ghosts—played by '70s superstars Anne Murray, Imogene Coca and Dick Smothers—Oscar soon feels a warmth beneath his ratty green fur. Jim Henson's version of A Christmas Carol proved popular enough that the main character reprised his role in 2006′s direct-to-DVD A Sesame Street Christmas Carol.
8. Kazran Sardick (Michael Gambon), Doctor Who
The Dick Sargent to Richard Harris' original Dumbledore, Michael Gambon plays a variation on Ebenezer with a sci-fi twist in the Doctor Who reboot. The holiday special, which premiered in 2010, features a crashing space liner, flying sharks, and the Doctor attempting to soften Gambon's Scrooge-y Kazran Sardick by traveling back in time and changing his earlier self. It's as if Charlie Dickens followed up his story with Scrooge 2525—and it's fantastic.
9. Scrooge McDuck (Alan Young), Mickey's Christmas Carol
Named after his literary forebearer, Disney's miserly fowl Scrooge McDuck is tailor-made to portray the Dickensian tyrant in this short film. And true to form, Scrooge McDuck is a bona fide slave driver to Mickey and Donald, even foreclosing on fiancee Daisy Duck's honeymoon cottage because her payment was an hour late. Overly harsh? Sure, but it doesn't seem that out of place given today's callous plutocrats. (Get it, Pluto?)
10. Daniel Grudge (Sterling Hayden), Carol for Another Christmas
Sterling Hayden, best known for his role as Jack D. Ripper in Dr. Strangelove or: How I Learned to Stop Worrying and Love the Bomb, plays Scrooge analog Daniel Grudge, who's disillusioned toward humanity after his son was killed in WWII. If that sounds like a bizarro take on A Christmas Carol, it should: Twilight Zone creator Rod Serling penned this anti-nuclear morality play, which could easily fit alongside his wayward astronauts and human cookbooks.