Harrison Ford Movies: Decade by Decade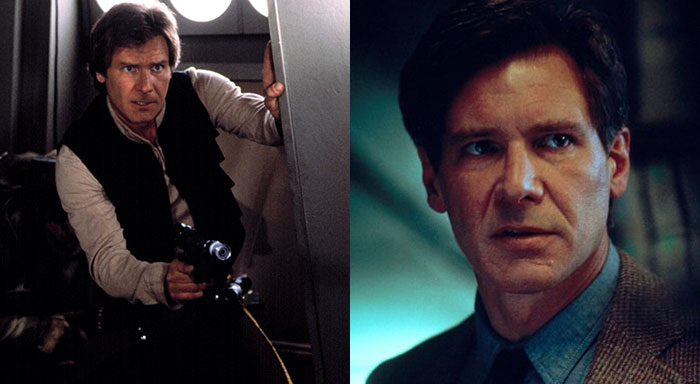 Harrison Ford has been box office gold—since the 1970s (that's four and half decades, if you're counting), making him one of the biggest movie stars of all time. What's the appeal? Well, he's got it all—brains, depth, range, and a ruggedly handsome look that seems to just get better with time. He's aged so well, in fact, that in 2015 he's reprising his very first leading role—from 1977. So which decade is his best, then? Let's break it down.
1970s
Two Words: Star Wars. The year was 1977, and Han Solo—and Harrison Ford—became a household name. Ford's Solo is a seedy, lone-wolf smuggler-turned-hero of the rebel alliance. Frustrating, complicated and oh-so dreamy. Starring as the iconic crusty romantic hero in one of the most popular films of all time would be enough, but Ford also had small roles in three more standout movies of the time: Apocalypse Now, The Conversation and American Graffiti.
1980s
Long story short, Harrison Ford pretty much owned the '80s. His best known roles are clustered in this decade: He reprised Han Solo twice (The Empire Strikes Back and Return of the Jedi), and in 1980 he debuted as archeologist/action hero Indiana Jones in Raiders of the Lost Ark. Indy graced us with his presence twice more that decade in Temple of Doom and The Last Crusade. Somehow in between all that starcruising and globetrotting, he managed to wedge in electrifying—and varied—performances in enduring classics like broody sci-fi cult flick Blade Runner, De Palma's gorgeously shot Pennsylvania-Dutch themed crime story Witness, sharp romcom hit Working Girl and as River Phoenix's meglomaniac pops in The Mosquito Coast.
1990s
Ford was no slouch this decade, either. He settled into his defining role as thinking person's action hero (often somewhat reluctant but ultimately badass) in a string of tight, high-quality thrillers like
Presumed Innocent, Air Force One, The Fugitive, Devil's Own and of course, as Jack Ryan (picking up where Alec Baldwin left off) in the movie adaptations of Tom Clancy's Patriot Games and Clear and Present Danger. But he also kept his hand in the straight up dramatic roles in like Regarding Henry and.. others. But let's hit Sabrina, Random Hearts and Six Days Seven Nights with the soft focus lens, mmmkay?
2000s
Ford opened the new millennium playing opposite Michelle Pfeiffer in the edge-of-your-seat thriller What Lies Beneath, and followed that with action/crime flicks K-19: The Widowmaker, Firewall, and Indiana Jones and the Kingdom of the Crystal Skull. He also waxed serious and thoughtful in Crossing Over, an ensemble drama about immigrants in Los Angeles.
2010s
It's only half over, but Ford is still going strong. We got to see his softer side more in this decade: in Extraordinary Measures he's a doctor looking for a cure for a rare disease; in Morning Glory, a comedy with a stellar cast, he shares the screen with Rachel McAdams and Diane Keaton. In 42, he plays a real-life good guy in the story of baseball hero Jackie Robinson. He seems to be having a blast in Cowboys and Aliens, which is exactly what it sounds like. And of course… Han Solo is back!