His Shining Decade: Charlie Sheen's Movies From the '80s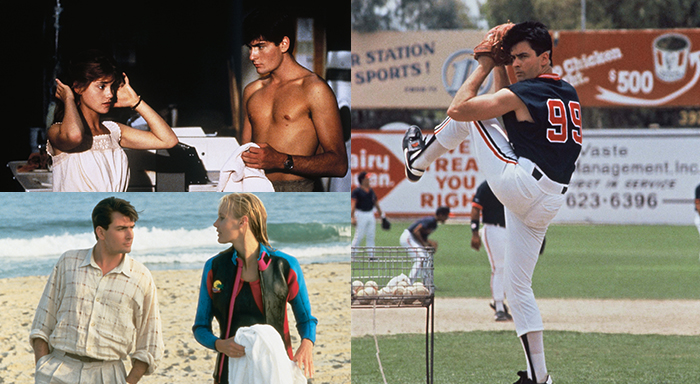 Platoon. Wall Street. Major League. Charlie Sheen has done some solid work over the course of his Hollywood career, but his greatest movies arguably all came out during the '80s. Here are the 10 films from that decade that stand out as Sheen's best.
1. Eight Men Out
A year before Charlie Sheen joined the iconic baseball comedy Major League, he played Oscar "Hap" Felsch—the real-life center fielder who planned to throw the World Series for big money as one of the Chicago White Sox players involved in the 1919 "Black Sox" Scandal—in John Sayles' historical drama.
2. Ferris Bueller's Day Off
Although he doesn't play a lead role in this Matthew Broderick-starring high-school dramedy, Charlie Sheen definitely deserves an honorable mention for his cameo appearance as a leather jacket-sporting juvenile delinquent. Despite his tough exterior, his character defies stereotypes by serving as a gentle, unexpected therapist to Ferris' sister Jeannie (Jennifer Grey), who complains about her beloved brother while the two kill time at a police station.
3. Lucas
Cappie (Sheen) is a popular jock and a total heartthrob; to watch him protect nerdy oddball and titular schoolmate Lucas (Corey Haim) from bullies is to fall in love with him. Even when Lucas realizes that his older crush Maggie (Kerri Green) is falling for Cappie and reacts by lashing out at both of them, Cappie continues to stick by by him, even supporting his foolish plan to join the football team so he can up his cool points.
4. Major League
Sheen owns this comedy as Ricky "Wild Thing" Vaughn, a rookie pitcher who plays for the doomed-to-fail Cleveland Indians. The team manages to break their losing streak and beat the odds after discovering what was missing all along: It turns out Ricky just needs glasses.
5. Platoon
Based on his own experience as a U.S. infantryman, Oliver Stone's bold telling of the Vietnam War stars Sheen as Chris Taylor, a college dropout who transitions from just another volunteer grunt to a war-weary veteran. This is no glorified, pro-war flick; Sheen brings the grit needed to convey his character's unspeakable loss, as well as the sheer terror that U.S. ground troops experienced.
6. Red Dawn
Again, Sheen delves into an atypical war film. This time, he and his onscreen brother Jed (Patrick Swayze) are courageous and tactful teens who defend their hometown from invading Soviet forces by engaging in guerrilla warfare. Calling themselves "Wolverines" in honor of their high school mascot, their ragtag group becomes a force to be reckoned with.
7. The Boys Next Door
On the day of their high school graduation, social outcasts Bo (Sheen) and Roy (Maxwell Caulfield) embark on a murder spree. (Fun!) Looking to avoid the usual lifetime of mundane work, Bo expresses a chilling desire to "go caveman" for a day, so the two take a spontaneous trip to Los Angeles where they rob, beat and kill.
8. The Wraith
This supernatural flick is a little out there, but in it, Sheen proves he can tackle any role—including a ghost who can turn into a car. He plays Jacob "Jake" Kesey, a mysterious newcomer who arrives in a small Arizona town shortly after a young boy (Christopher Bradley) is killed in an accident. To avenge the boy's death, Jake transforms into a Dodge Turbo Interceptor to challenge the car thieves who killed him to a deadly race.
9. Wall Street
Sheen teams up with director Oliver Stone yet again, this time delivering a story of modern-day corruption and greed. Bud Fox (Sheen) is a young stock broker looking to get rich quick with the help of Gordon Gekko (Michael Douglas), a notorious Wall Street player. For a moment, Bud is on top of the world, enjoying penthouses, women and the like, but it's not long before his empire starts to crumble.
10. Young Guns
Charlie Sheen in a Western? Yes, please. An English aristocrat employs Billy the Kid (played by Sheen's brother, Emilio Estevez) and five other outcasts to guard his New Mexico ranch, but tensions soon rise between their camp and that of a rival Irishman's. You have to admit: With his cowboy hat and bandana, Sheen makes a pretty convincing gun-toting outlaw.