Keeping It Real: 8 Movies Starring Real-Life Couples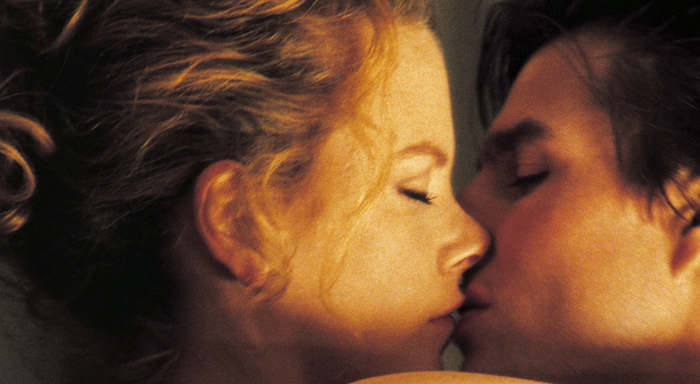 Sometimes couples sizzle on and off the screen. Here are 10 real-life pairs who made it work on both sides of the camera.
1. Brad Pitt (John Smith) and Angelina Jolie (Jane Smith), Mr. & Mrs. Smith
The tabloids still haven't recovered from the outcome of this 2005 casting call. In Doug Liman's spy thriller the onscreen sparks are palpable and watching the birth of "Brangelina" renders Mr. & Mrs. Smith an instant classic. The duo are pairing up again in Jolie-directed Beyond the Sea.
2. Humphrey Bogart (Harry "Steve" Morgan) and Lauren Bacall (Marie "Slim" Browning), To Have and Have Not
"You know how to whistle, don't you Steve? Just put your lips together and blow." Bacall uttered these now classic words from To Have and Have Not and won our hearts as well as co-star Humphrey Bogart's. Soon after, they married in real life and remained together for 13 years. They went on to make several more movies together.
3. Kurt Russell (Lucky Lockhart) and Goldie Hawn (Kay Walsh), Swing Shift
Kurt and Goldie are one of Hollywood's most enduring offscreen couples. They swung into high gear as a real life duo while co-starring in this movie in 1983 and have been together ever since.
4. Paul Newman (Walter Bridge) and Joanne Woodward (India Bridge), Mr. and Mrs. Bridge
Woodward and Newman represent the definitive Hollywood romance. Both managed to have successful film careers and remained happily married for over 30 years. Mr. and Mrs. Bridge explored a more mature relationship, one like their own, which spanned the decades. It is acted with a sense of trust and honesty that no other casting choice could possibly have yielded.
5. Richard Burton (George) and Elizabeth Taylor (Martha), Who's Afraid of Virginia Woolf?
Taylor and Burton both deliver excruciatingly raw and personal performances as George and Martha in this dramatic masterpiece written by Edward Albee and directed by Mike Nichols. Offscreen, Burton and Taylor were "the volatile celebrity couple" of their day. Their relationship was seasoned with tabloid intrigue, booze, passion and a marital history which included: marriage, divorce, re-marriage and re-divorce. One can't help wonder how much art and life were intersecting and contributing to the legendary performances of this gut wrenching epic.
6. Tom Cruise (Dr. William "Bill" Harford) and Nicole Kidman (Alice Harford), Eyes Wide Shut
Eyes Wide Shut marks the final onscreen pairing of what was easily the most watched couple of the '90s. In what would also be Stanley Kubrick's last movie, Eyes Wide Shut looked at a disturbing, seedy and empty world of sexual experimentation and partner swapping.
7. Vince Vaughn (Gary Grobowski) and Jennifer Aniston (Brooke Meyers), The Break-Up
This ironically titled movie seemed to allude to both where Aniston was coming from (Brad Pitt) and where she was headed with Vince Vaughn (both on and off-screen). While Vince might not have wound up her one true love, The Break-Up definitely showed us that Aniston was finally bouncing back.
8. Woody Allen (Alvy "Max" Singer) and Diane Keaton (Annie Hall), Annie Hall
This real life romance led to several classic collaborations throughout the '70s including: Manhattan, Sleeper, Love and Death, Play It Again, Sam and of course the classic, Annie Hall (for which Keaton won the best actress Oscar). Though their awkward, angsty, chemistry ultimately didn't endure offscreen, we'll always have Annie Hall to remind us just how fun it was while it lasted.
For more on couples, see our list of movie couples we want to double-date.