Remembering Ziggy Stardust on the Big Screen: David Bowie's Top 8 Movie Performances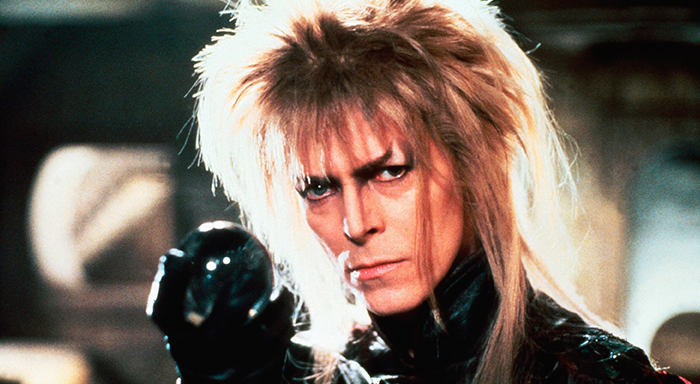 Multimedia chameleon David Bowie was most renowned for his musical career, but when he dabbled in movie acting, the results were always interesting and definitely unique. In light of his passing on Sun., Jan. 10, 2016, we recall Bowie's eight best big-screen performances.
1. Basquiat
Bowie has a small role as Andy Warhol in this biopic about expressionist graffiti artist Jean-Michel Basquiat (Jeffrey Wright). But the mere idea of an icon like Bowie portraying an icon like Warhol makes for memorable viewing.
2. Labyrinth
Jim Henson's charming story of a young girl forced to save her brother from the goblin King Jareth (Bowie) has become a cult classic—and perhaps Bowie's best role. The puppet-heavy cast and slew of memorable songs (co-written by Bowie) are great, but you also have to praise that costume designer.
3. Merry Christmas, Mr. Lawrence
A Japanese/UK co-production, this movie follows the parallel stories of two Japanese officers and two British officers in a Japanese prison camp. Bowie plays Major Jack Celliers, a rebellious New Zealander who is haunted by guilt for having betrayed his brother in his youth. Bowie's performance is captivating as usual.
4. The Hunger
Bowie's rather fond of playing otherworldly creatures, so it's inevitable that he'd eventually appear onscreen as a vampire. Here, he portrays Miriam Blaylock's (Catherine Deneuve) blood-thirsty lover, who's starting to give out on her due to a horrible, instant-aging disease. This prompts Miriam to set her sights on new lover Dr. Sarah Roberts (Susan Sarandon)—and results in the movie's famously explicit lesbian sex scene.
5. The Last Temptation of Christ
In Martin Scorsese's Biblical epic, Bowie plays Pontius Pilate, the Roman official who decrees that Christ shall be crucified. Bowie plays the prefect not as evil, maniacal, or ignorant, but as levelheaded and reasonable. In a way, that makes his character all the more unsettling.
6. The Man Who Fell to Earth
Bowie plays an alien named Newton who travels to Earth from a drought-stricken planet in search of water. Instead, he's seduced and ultimately corrupted by human culture. It's easy to consider this role, as Roger Ebert once described it, as "the role [Bowie] was born to play." Newton isn't an alien so much as "Other"—lonely, mercurial and isolated even as he acclimates to life on Earth.
7. The Prestige
He only has a cameo in Christopher Nolan's sci-fi mystery, but Bowie is perfectly cast as Nikola Tesla, the eccentric, real-life engineer and inventor from the early 20th century.
8. Zoolander
In what must be his funniest movie performance, Bowie plays himself during a "walk-off" competition between rival models Derek Zoolander (Ben Stiller) and Hansel (Owen Wilson). Sexily emerging from the crowd in a scene complete with freeze frame, Bowie volunteers to judge the contest, dramatically declaring Hansel the victor when Zoolander winds up giving himself a wedgie.