Cream of the Crop: 10 Best Dramatic Sundance Movies Of The '00s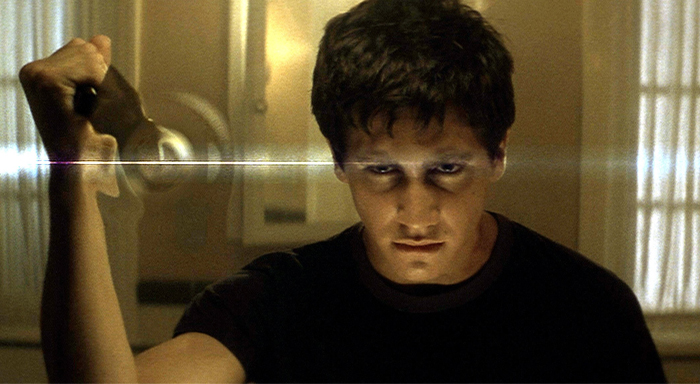 Some call the '90s the boom years at Sundance, but in the '00s plenty of great work was produced—upholding the finest traditions of independent movies and maybe even inventing some new ones. Of the fiction features that had their world premieres at Sundance this past decade, here are our top 10.
1. Donnie Darko
Set on the eve of the '88 Bush-Dukakis contest and starring Jake Gyllenhaal as the brooding Donnie, Richard Kelly's debut combines wormhole metaphysics and apocalyptic teen angst to sensational effect. With a soundtrack that brings to mind a dusty, beloved mixtape, this unlikely offspring of Back to the Future and Blue Velvet was one of the defining cult movies of the aughts and remains the last word on what it was like to grow up in the Reaganite '80s.
2. Half Nelson
Built around a knockout performance by Ryan Gosling as a crack-addicted junior-high teacher, this sly classroom drama both honors and subverts its familiar genre and smuggles in some dialectical theory and a political point of view to boot. The filmmakers Ryan Fleck and Anna Boden more than lived up to the promise of this debut with 2008′s Sugar.
3. In The Bedroom
The standout among the decade's Sundance actor-turned-directors, Todd Field made his debut with this adaptation of an Andre Dubus story: a stark, patient study of grief and a vigilante movie that resists the customary satisfactions of revenge.
4. Momma's Man
Azazel Jacobs's psychodrama about a midlife regression to the family nest is the sweetest and most moving of filial love letters—set in the magically cluttered Tribeca loft where the filmmaker grew up and starring his own parents (the artists Ken and Flo Jacobs).
5. Old Joy
In Kelly Reichardt's subdued but endlessly suggestive road movie, two old friends search for a remote hot spring, and perhaps for something more elusive. In this open-ended elegy, a lament for lost ideals and forgotten selves, the passing landscape, seen from a moving car, comes to stand for the irretrievable past.
6. Police Beat
Robinson Devor's gorgeous reverie pairs the lovelorn interior monologue of a Senegalese Seattle cop with the alternately mundane and surreal happenings of his typical work week. A cop movie unlike any you've ever seen, it casts a sad, dreamy spell that matches its lonely hero's sense of disconnection.
7. Primer
A couple of white-collar drones tinkering away in a suburban garage invent what turns out to be a time machine—before long, reality as we know it is spinning off its axis. Both a satire and an embodiment of DIY resourcefulness (it was reportedly shot on a four-figure budget), Shane Carruth's ingenious feedback loop of a movie matches its onslaught of brain-twisting paradoxes with coolly composed visuals and rapid-fire science-nerd banter that suggests David Foster Wallace rewriting David Mamet. A deserving winner of the 2004 Grand Prize and the best first feature of the decade.
8. Smiley Face
Based on a script by Dylan Haggerty and featuring a very funny Anna Faris, Gregg Araki's delightfully strange pot odyssey is presumably the only stoner movie in history to revolve around a first-edition copy of The Communist Manifesto and, with a rousing scene in a sausage factory, pay tribute to Jean-Luc Godard and Jane Fonda's 1972 agitprop farce Tout Va Bien.
9. The Savages
Tamara Jenkins's sharp, unsentimental tragicomedy, in which two combative siblings (Laura Linney and Philip Seymour Hoffman) must care for a semi-estranged father with dementia, deftly sidesteps the cliches of the dysfunctional-family movie that has long been a Sundance staple.
10. The Sleepy Time Gal
Christopher Munch's portrait of a middle-aged woman with cancer (Jacqueline Bisset) doesn't tailor its protagonist's eccentricities to the usual shape of an illness melodrama. This tender, limpid movie is, in the end, less about its willful heroine's preparation for death than about the fullness and complexity of her singular life.
Want to see a great short from the Sundance Film Festival from this time period? Check out "Man" circa 2008 (below).