8 Timeless Life Lessons Gleaned From John Cusack Movies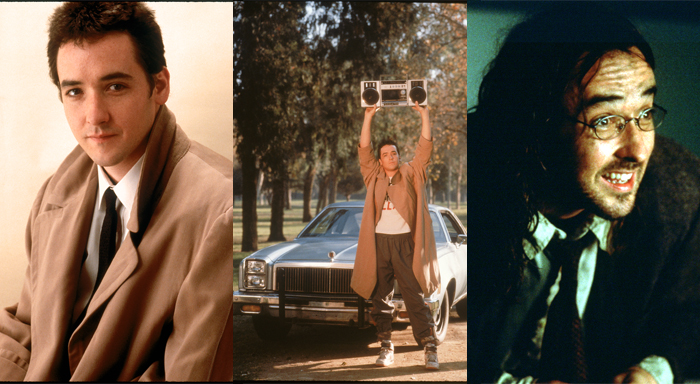 John Cusack's entire career is something of a life lesson: you don't need to be conventionally macho to become a leading man. Even in the golden age of muscled-up testosterone (aka the '80s), Cusack found success in offbeat roles. We've compiled 8 of the best pieces of advice inspired by Cusack's most famous characters.
1. Be persistent. (Say Anything)
Of course, one man's persistence is another woman's restraining order, but Lloyd Dobler (Cusack) gets his first sorta-date with "Diane Court whoa" through some gentle prodding. He calls her up. She politely brushes him off. He pushes back, ever so slightly, and she agrees to go with him to a party.
2. Be yourself. (Being John Malkovich)
Like almost everyone else in Being John Malkovich, Craig has given apparently little thought to John Malkovich before presented with the opportunity to experience life through his eyes, at which point John Malkovich seems like the path to a better, more satisfying life. It isn't, of course, and Craig manages to end the movie in a sadder, more trapped position than where he began.
3. It's what you are like, not what you like. (High Fidelity)
Much of High Fidelity builds toward Cusack's Rob Gordon coming to this realization. But it's an enjoyable journey while we listen to Rob, Barry (Jack Black) and Dick (Todd Louiso) match list-making wits in the best record-store movie ever made.
4. Forsake fame. (Bullets Over Broadway)
In Bullets Over Broadway, Cusack takes a turn standing in for Woody Allen by playing a floundering playwright who discovers a more authentic voice via gangster Chazz Palminteri. But Cusack's surrogate Woody leaves both the bullets and Broadway to Palminteri, opting instead for a happier, less high-profile life.
5. Learn to shotgun a beer. (The Sure Thing)
In his first real rom-com The Sure Thing, Cusack plays Gib, a college student who takes an immediate dislike to Alison (Daphne Zuniga) during their cross-country road trip—at least until he shows her how to shotgun a beer. Then the romance begins.
6. Hang in there. (Better Off Dead)
Lane Myer, Cusack's character in Better Off Dead, falls into a suicidal funk when his girlfriend dumps him at the beginning of the movie. But he fails to kill himself, and winds up a ski-race champion with a new French girlfriend, an argument against suicide if we've ever heard one.
7. Seduce with mixtapes. (High Fidelity)
Of course, it doesn't hurt to look and act like John Cusack—but Rob Gordon's mix of indecision, fumbling, music snobbery and Cusackian pretty-boy looks becomes pretty attractive and wins over the love of his life when he finally makes her a mixtape. Give it a try!
8. You can't go home again. (Grosse Pointe Blank)
It's easy to imagine Grosse Pointe Blank as the flipside universe for an alternate Lloyd Dobler who didn't get the girl. Instead of enlisting in the army, as his offscreen dad suggested, Lloyd goes into business for himself and turns into Martin Q. Blank, a neurotic assassin attending his high school reunion. In one of the movie's funniest/saddest scenes, Blank visits the site of his old home, which has been unceremoniously turned into a mini-mart.
In need of more advice? Check out Matthew McConaughey's life tips.