Cinematic Tearjerkers: 10 Movies to Watch When You Need a Really Good Cry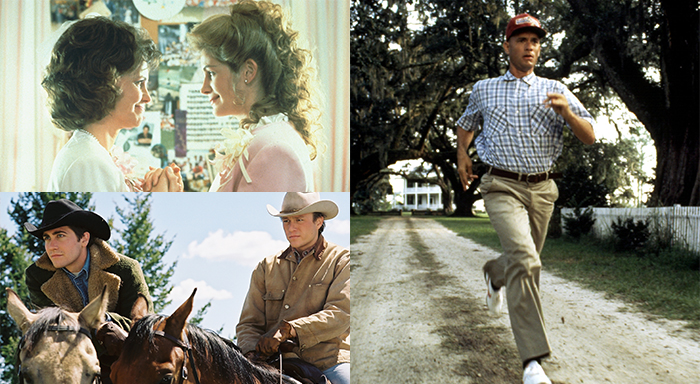 Sometimes we all just need to curl up in a ball and let the waterworks flow. So the next time you're feeling overcome with feelings, try turning on one of these 10 movies that don't hold back from delivering an emotional wallop. Warning: have a box of tissues ready.
1. Beaches
C.C. Bloom (Bette Midler) and Hillary Whitney (Barbara Hershey) have been best friends since childhood. As C.C. grows up to find fame and fortune as an actress and singer, Hillary remains her most devoted fan. So when Hillary is diagnosed with viral cardiomyopathy, it's no wonder she decides to spend her final days with C.C. on the beach. As the two gal pals watch the sunset one last time, the bittersweet scene transitions to C.C. singing "The Wind Beneath My Wings" at Hillary's funeral. Sniff, sniff.
2. Brokeback Mountain
What's more romantic than spending peaceful nights in a tent, away from the rest of the world, up in the scenic mountains of Wyoming? Nothing, quite frankly. Ang Lee's timeless love story about two cowboys (Heath Ledger as Ennis Del Mar and Jake Gyllenhaal as Jack Twist) packs a punch when Ennis learns Jack died in a freak accident and wanted to have his ashes scattered on Brokeback Mountain. Cue the waterworks.
3. Dancer in the Dark
Selma Ježková (Björk) is a poor Czech immigrant who's going blind, working in a factory to afford an operation that will prevent her son (Vladica Kostic) from facing the same fate. During a scuffle over stolen money, Selma's landlord Bill (David Morse) is accidentally shot and asks Selma to finish him off. She obliges, only to receive the death penalty for her actions. On her way to the gallows, Selma hugs the other men on death row while singing a harrowing and haunting tune in a way only Björk can.
4. Forrest Gump
Although Forrest Gump (Tom Hanks) claims he's "not a smart man," you can't help but love his charm and good intentions. And you can't help but bawl when he carries his fatally wounded best friend and fellow soldier Bubba (Mykelti Williamson) away from the battlefield and watches his shrimp-loving soulmate die in his arms.
5. Life Is Beautiful
When Guido Orefice (Roberto Benigni) and son Giosuè (Giorgio Cantarini) are rounded up by Nazi soldiers, Guido helps Giosuè survive life in a concentration camp by convincing him that all of the prisoners are playing a game and he must behave in order to win the ultimate prize: a tank. Guido stays in character right up until the end—when he proves that love, family and imagination truly conquer all. Just try not to cry when Giosuè finally gets to ride atop his tank.
6. My Girl
Preteen tomboy and hypochondriac Vada (Anna Chlumsky) has an equally awkward best friend named Thomas (Macaulay Culkin) who's allergic to "everything." As Vada comes of age, getting her period and sharing her first kiss with Thomas, the cuteness is cut short when Thomas dies from a bee sting while looking for Vada's ring in the woods. Vada's reaction at the funeral reminds us how painful losing a friend really is.
7. Steel Magnolias
This dramedy offers a couple of laughs, but not enough to drown out the tears. Devoted mother M'Lynn Eatenton (Sally Field) donates a kidney to save the life of her diabetic daughter Shelby (Julia Roberts). When Shelby's body rejects the new organ, M'Lynn must lean on a group of tight-knit Southern women (including Olympia Dukakis and Shirley MacLaine) for support.
8. Stepmom
Being a mom to a teenage daughter and rowdy son is no easy task for Jackie (Susan Sarandon). As if that weren't difficult enough, she's dying of cancer and her ex-husband (Ed Harris) is dating Isabel (Julia Roberts), a woman half his age who makes Jackie feel out of touch. Though the two women clash at first, Jackie ultimately realizes she must accept that Isabel will raise her children after she's gone. On Christmas, a bedridden Jackie pulls her kids aside to tell them she will die, but that they must always remember her. This movie will have you returning your mom's calls immediately.
9. The Notebook
As sappy as they are cliche, Nicholas' Sparks novels (and the movies made from them) have a way of yanking the tears right from your eye sockets. Ryan Gosling and Rachel McAdams make for the perfect love-story duo; we cry every time we see them kissing in the rain.
10. Titantic
We all know the plot of this epic, three-hour tearjerker, yet the drama's so moving that (to quote a famous line from the movie) we'll never let go! Socialite Rose (Kate Winslet) falls for struggling artist Jack (Leonardo DiCaprio) aboard the luxurious Titanic. Romance soon turns to tragedy as the boat sinks, with Jack saving Rose through a noble gesture that costs him his own life.
Need some cheering up now? Check out our picks for top zombie comedies.