Just in Time for Black Friday: 6 Epic Shopping Trips in the Movies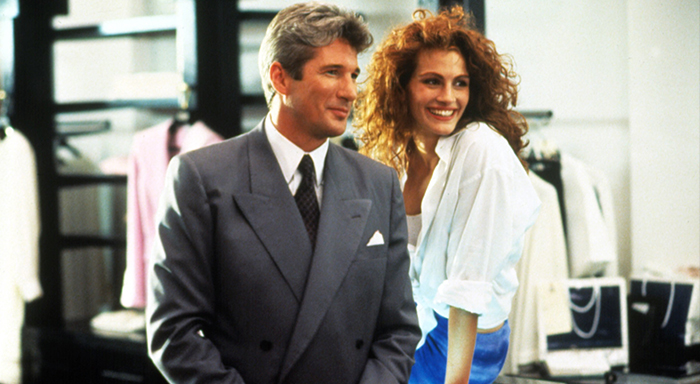 Black Friday will soon be upon us, and with it, the mayhem of mall visits and online ordering. So why not just shop vicariously this season by watching the most epic shopping sprees in all of cinema? Consider these six flicks to be your own form of retail therapy.
1. Confessions of a Shopaholic
This comedy about shopping-obsessed Rebecca (Isla Fisher) and her plastic "magic cards" is full of buying sprees, but one in particular truly stands out: that time she spotted a pair of Gucci shoes at a jam-packed sample sale and wrestled a fellow shopper to the ground to claim what (she felt) was rightfully hers. Her tenacity should come as no surprise; Rebecca is a woman who not only "speaks Prada," but also justifies buying a pair of gloves simply because she has hands. (Makes sense, sort of.)
2. Crazy, Stupid, Love
When Cal (Steve Carell) finds himself heartbroken over his cheating wife (Julianne Moore), he enlists smooth ladies' man Jacob (Ryan Gosling) to teach him the art of seducing women. First order of business? Purchasing Cal a new look, which proves to be no easy task. After all, Cal's natural instinct is to wear jeans that give him a "mom butt."
3. Marie Antoinette
In a memorable scene set to Bow Wow Wow's 1980s hit "I Want Candy," the titular queen of France ditches life at the court of Versailles and demonstrates that she doesn't just want candy—she also craves fancy footwear! As if trying on luxurious, jewel-encrusted, fur-lined shoes wasn't enough to spoil her, Marie also gambles, slurps Champagne and eats fancy macarons. Let them eat pastries!
4. Pretty Woman
After being dismissed by a snobby saleswoman for her barely-there get-up, escort Vivian Ward (Julia Roberts) turns to her wealthy client Edward (Richard Gere) to make everything right–with money, of course. Not only is she waited on hand and foot at a Rodeo Drive boutique, she also revisits the store that previously rebuffed her while wearing one of her swanky new outfits. Vivian's nonchalant comment about how she "has to go shopping now" is the greatest part of the whole bit.
5. The Devil Wears Prada
Shopping is hard work, but it's a little easier when you work at a magazine like Runway, where you can shop right out of the office's label-stocked fashion closet. Struggling to fit in with her fashionable co-workers, assistant Andy (Anne Hathaway) decides she's due for a makeover, and art director Nigel (Stanley Tucci) is just the man to give her one. After he works his magic, Andy returns to her desk primped and polished, all without ever having left the building.
6. The Sweetest Thing
If you're going to crash a wedding, do it in style. Enter besties Courtney (Christina Applegate) and Christina (Cameron Diaz), who turn their visit to a small-town dress shop into a fitting-room dance party. Set to Peaches and Herb's "Shake Your Groove Thing," their shopping-montage parody even pays homage to Pretty Woman, with Applegate doing her best Julia Roberts impression while wearing her streetwalker character's signature red gown.
Speaking of spending money, read our list of the top 10 most expensive movies ever made.