9 Movies from 1989 You Must See Before You Die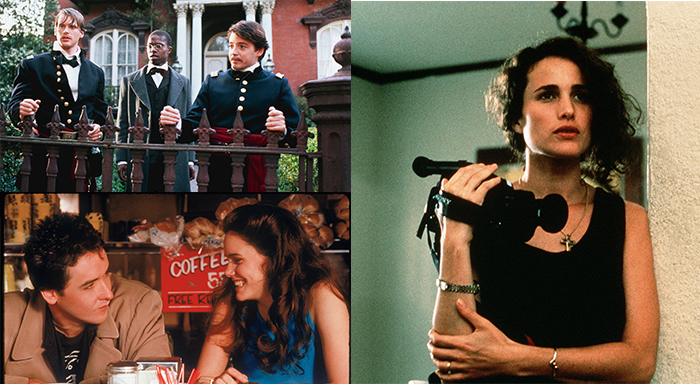 1989 was a wild year in politics—thanks to events like the downfall of the Berlin Wall and the deadly pro-democracy rallies in China's Tiananmen Square. It was also an exceptional year for Taylor Swift. And the movies, of course. Want proof? Here are nine movies from that year that make for essential viewing, all of them featured in 1001 Movies You Must See Before You Die.
1. Batman
Tim Burton's noirish comic-book movie is darker and more menacing than the campy Batman TV series and first feature movie. This time around, the alter ego of Bruce Wayne (Michael Keaton) is an antihero who fights crime to avenge his parents' murder. Meanwhile, The Joker (a scene-stealing, over-the-top Jack Nicholson) embarks on a reign of terror over Gotham City. Batman was a huge box office success and helped establish a the modern superhero movie.
2. Crimes and Misdemeanors
Woody Allen's tragicomedy asks questions about God's existence and life's meaning while telling the story of an ophthalmologist (Martin Landau) who contemplates murdering his mistress (Anjelica Huston) to avoid a scandal. Allen also stars as Cliff Stern, a documentarian making a movie about his despised brother-in-law, a vain sitcom producer (Alan Alda) who competes with Cliff to romance the same woman (Mia Farrow). Allen's nineteenth movie takes on risky themes, but it paid off with critical acclaim and four Oscar nominations.
3. Do the Right Thing
Spike Lee's drama, set on a hot summer day in a Brooklyn neighborhood, addresses the inflammatory nature of race relations in the U.S. as a tension-filled series of hateful skirmishes threatens an explosion of intolerance and violence. It's a landmark film movie racism and class struggle, and earned Lee his first Oscar nomination.
4. Drugstore Cowboy
Gus Van Sant's movie about four dropouts stealing prescription drugs from pharmacies and hospitals around the Pacific Northwest was overlooked and under-appreciated, but today it's considered his breakthrough work. Matt Dillon delivers a powerful performance as the junkie leader of a pack of dysfunctional teens, who become increasingly desperate when faced with the consequences of their addiction.
5. Glory
During the Civil War, the volunteer soldiers fighting for the Union in the first all-black 54th Infantry Regiment is led by idealistic, white commander Robert Gould Shaw (Matthew Broderick). In this fact-based drama, he's supported by strong performances from Sgt. Major Rawlins (Morgan Freeman) and ex-slave recruit Private Trip (Denzel Washington). Their bravery and sacrifice culminates in a suicidal assault on South Carolina's Fort Wagner in 1863, marking a turning point in the war. The movie is notable not only for its depiction of a forgotten history, but also for winning Denzel Washington his first Oscar.
6. Roger & Me
When General Motors chairman Roger Smith closed numerous automotive plants in Michael Moore's hometown of Flint, Michigan, Moore went on a quest to track down and speak one-on-one with the CEO, painting him as a figure of corporate greed in the process. Moore's satirical movie offers an enlightening look at people who must contend with the unemployment, unrest and urban blight. Moore's directorial debut became the most successful documentary in American history at that time, although that top spot now goes to another Moore doc—Fahrenheit 9/11.
7. Say Anything…
John Cusack stars in Cameron Crowe's directorial debut as Lloyd Dobler, a charming-yet-average high-school graduate determined to woo brainy Diane Court (Ione Skye). One of the sweetest, freshest coming-of-age movies ever made; to this day, who can hear Peter Gabriel's "In Your Eyes" without picturing Lloyd hoisting a boom box over his head?
8. sex, lies, and videotape
This fascinating movie stars James Spader as a reclusive drifter who tapes his interviews with women (including Andie MacDowell and Laura San Giacomo) about their complex sexual experiences. Written in just eight days and filmed over five weeks on a budget of $1.2 million, Steven Soderbergh's first movie was a huge hit at the Sundance Film Festival, the winner of Cannes' prestigious Palme d'Or, and a landmark piece of independent filmmaking. 
9. When Harry Met Sally…
Can men and women be just friends? That's the compelling question asked by Nora Ephron's superb script in this old-fashioned rom-com directed by Rob Reiner. The movie earned Ephron an Oscar nomination, made Meg Ryan a star and gave Harry Connick, Jr—who performs on the soundtrack—his first Grammy award.
Here are nine more movies you must see before you die, all of them from 1976.