By the Book: 10 Movies to "Read" This Winter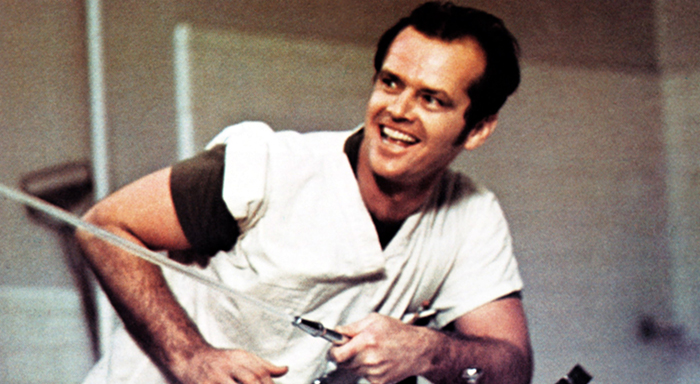 Comedian Jim Gaffigan once said he prefers movie adaptations to the books they're based because there's "no reading." While it's true that a movie's a low-energy, two-or-three-hour commitment, tackling a fantastic novel can feel like an accomplishment. So if you're looking for your next great book, here are 10 movies you should "read" this winter.
1. Fight Club
David Fincher's flashy directorial style muddled the winking moral lessons contained in Chuck Palahniuk's twisted anti-consumerist diatribe, which galvanized a legion of navel-gazing young men to beat each other senseless in the spirit of self-actualization.
2. Jackie Brown
Featuring snappy dialogue and double-crossing lowlifes, Elmore Leonard's 1992 novel Rum Punch seems like it must've been written with a Quentin Tarantino adaptation in mind. Full of Leonard's trademark grit and swagger, the story follows 44-year-old street-smart stewardess Jackie Brown (played in the movie by Pam Grier) as she schemes to make off with a bag of loot while under the watchful eyes of a gunrunner, a bail bondsman, and the LAPD.
3. L.A. Confidential
Set in the 1950s (back when Hollywood was even more lurid and callous than it is now), James Ellroy's book captures the glitz and gore of Tinseltown's seamy underbelly. With twisting multiple narratives, Ellroy's noir tale is as captivating as the star-studded movie it inspired. Detective fiction doesn't come more hard-boiled.
4. No Country for Old Men
A book-to-screen collaboration between neo-noir auteurs like Cormac McCarthy and the Coen Brothers was probably inevitable; pitch-black humor, heists gone wrong and memorably eccentric villains are in both parties' wheelhouses. Fans of the film, however, would be remiss to skip the book.
5. One Flew Over the Cuckoo's Nest
A deeply unnerving and unrelenting look inside the walls of an Oregon psychiatric hospital, Ken Kesey's novel is far from a lighthearted read. But for bookworms with an icy nerve—like that of Nurse Ratched herself—the tale of McMurphy and his cooped-up cohorts will leave you as enthralled as Miloš Forman's award-winning take on the story.
6. Persepolis
Like its Oscar-nominated adaptation, Marjane Satrapi's charming autobiography about her life amid the Iran-Iraq conflicts of the '70s and '80s was heralded for its beautiful stark images and a heartfelt sincerity that transcends the page. No matter what era or culture you come from, Marji's rites of adolescence in this graphic novel will have you nodding in recognition.
7. The Godfather
Surprise: One of the greatest movies of all time is based on a pretty tremendous book. Mario Puzo's mafia epic fleshes out backstories and characters beyond Francis Ford Coppola's masterful adaptation (which Puzo co-wrote) and provides an even deeper chronicling of the Corleone empire.
8. The Shining
Director Stanley Kubrick famously sliced and diced Stephen King's 1977 horror novel, putting his own unique stamp on the source material (much to the chagrin of the author). For bookworms and cinephiles, though, both versions are well worth your time.
9. To Kill a Mockingbird
While it might've been a chore to read in junior high, Harper Lee's To Kill a Mockingbird deserves a second chance. Inspiring and important, Lee's story of racism, tolerance and justice in the Depression-era South is a literally classic for a reason, after all.
10. Total Recall
Paul Verhoeven's over-the-top action flick is pure campy bliss, and the short story it's based on, We Can Remember It for You Wholesale, is just as fun. With all the makings of a classic Philip K. Dick tale (paranoia, heavy sedatives, a breakdown of reality), this sci-fi yarn may best be described as "Jason Bourne in space." And while there may not be a bug-eyed Schwarzenegger gasping for air on the Martian surface, it's still a blast to read.
On the flip side, here are 10 movies based on books that turned out much better than their source material.